Pumpkin Bread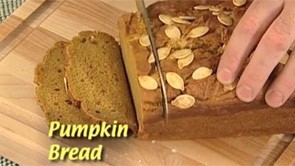 Print Friendly
Ingredients
2 cups all purpose flour
1/2 teaspoon Kosher salt
1/2 teaspoon baking soda
1/2 teaspoon nutmeg
1 teaspoon cinnamon
2 teaspoon baking powder
1 cup sugar
1 cup canned pumpkin
1/2 cup milk
2 eggs
2 oz. butter
1/2 cup raw salted pumpkin seeds
Preparation
Sift flour, salt, baking soda, nutmeg, cinnamon, and baking powder together.
Combine pumpkin, sugar, milk, and eggs. Mix well.
Add sifted dry ingredients and butter to pumpkin mix. Stir well.
Bake in loaf pan at 350 degrees F for 45-50 minutes.
Halfway through baking, brush some melted butter over bread and sprinkle on salted pumpkin seeds for garnish.
Serve warm with vanilla ice cream or whipped cream.