Purple Cow Smoothie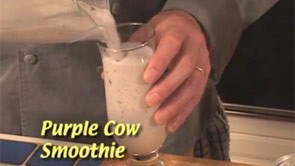 Print Friendly
Ingredients
1/2 can grape soda
2 scoops vanilla ice cream
10 ice cubes
1 teaspoon vanilla extract
1 cup milk
Preparation
In a blender, mix grape soda, ice cream, and ice cubes. Blend until smooth.
Add milk until desired consistency is achieved.
Pour into glasses and serve.

Here are more smoothie recipes we thought you would enjoy as well...
STRAWBERRY SHAKE
4 cups strawberries, hulled
2 cups ice cubes
2 cups milk
1 cups strawberry ice cream
2 teaspoons sugar
Preparation
In a blender mix strawberries, ice, milk, ice cream, and sugar. Blend until smooth.

VERMONT MAPLE FLOAT
1 cup milk
2 tablespoons Vermont maple syrup
2 scoops vanilla ice cream
Preparation
Pour milk into tall glass.
Stir in maple syrup and mix well.
Top with scoops of ice cream.

ICED MOCHA SHAKE
1 cup milk
2 teaspoons vanilla extract
4 tablespoons sugar
4 tablespoons mocha flavored instant coffee mix
1-2 cups crushed ice
Preparation
Blend all ingredients In a blender until smooth.
Pour into glasses and serve.