Queen City Braised Beef Shank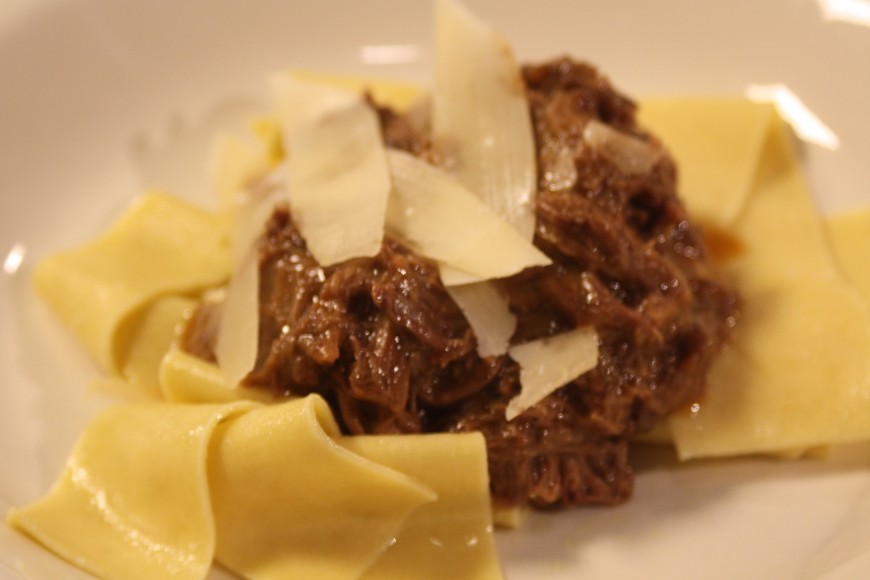 Print Friendly
Anthony Ploof – Director of Cook Academy at The Essex
Ingredients
3-4 lb. beef shank
Kosher salt and fresh ground black pepper
1/2 cup flour
4 tablespoon olive oil
2 tablespoon tomato paste
1 large white onion, minced
1 large carrot, minced
1 celery stalk, minced
4 cloves garlic. crushed
12 oz. Queen City Yorkshire Porter
12 cups beef or veal stock
Salt and pepper, to taste
Preparation
Preheat oven to 325 degrees F.
Heavy season beef shank with kosher salt and fresh ground black pepper, then coat entire beef shank with flour.
Heat olive oil in a large shallow heavy-bottomed stainless steel pot or Dutch oven, over medium high heat.
Place beef shank in Dutch oven and sear meat until a dark brown crust has formed on all sides. Remove from pot and set aside.
Add onion, carrot, celery, and garlic to Dutch oven and sauté until translucent, about 3-5 minutes.
Add tomato paste and continue to cook on medium-high heat until you achieve a dark brown color and a nutty aroma comes from the pot.
Add Yorkshire Porter to pot and deglaze, scrapping the bottom of the pot with a wooden spoon to release any bits of "fond" from the pan. Once the beer has reduced by half, add stock to the pot and bring to a boil.
Place beef shank back in pot and bring to a low simmer. Cover and place in oven at 325 degrees F for 2 hours.
After two hours, remove cover from pan and check doneness of beef. The meat should fall off the bone and easily pull apart with a fork.
Carefully remove pan from oven and place on burner set to low or "simmer".
Remove meat and place on a sheet pan and set aside to cool slightly.
Meanwhile, increase heat of braising liquid and bring to a rolling boil. Continue to boil until braising liquid has thickened to "sauce" consistency.
While sauce is thickening, remove meat from bone and shred using two forks.
Once sauce has thickened, turn off heat and place meat back in sauce and stir to combine.
Finally, adjust seasoning with salt and pepper, if needed, before serving.