Raspberry Crepes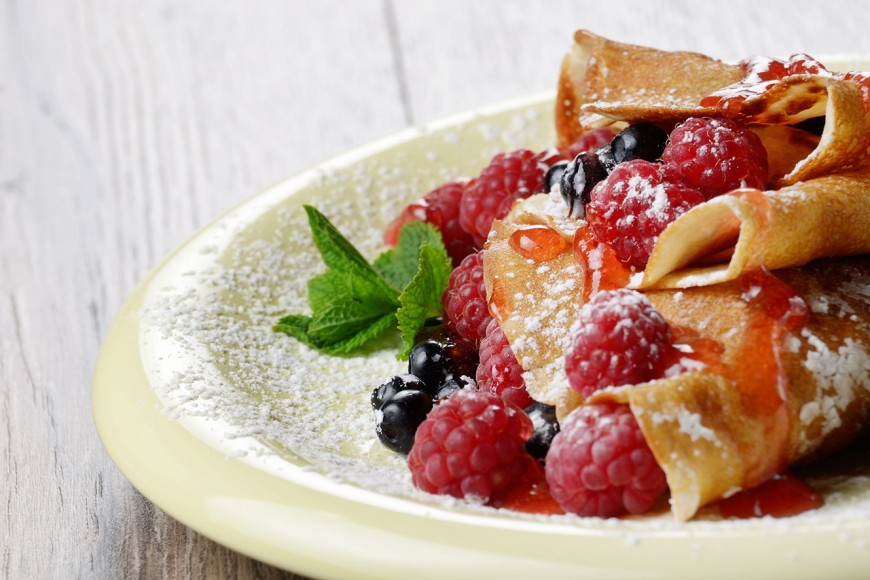 Print Friendly
Blueberry Hill Inn, Goshen, Vermont
Crepes Ingredients
1 cup unbleached white flour (we like King Arthur flour)
Pinch of salt
4 eggs
3/4 cup milk at room temperature
2 tablespoons butter, melted
Oil or butter, for frying the crepes
Crepes Preparation
In a large bowl, mix together the flour and salt. Make a well in the center and put into it the eggs and 1 tablespoon of milk. Beat them lightly with a fork or whisk.
When combined, incorporate the egg mixture into the surrounding flour, whisking until the batter is smooth. Gradually whisk in the milk, and finally add the melted butter. Allow the mixture to rest one hour.
Heat a 6-inch crepe pan with a little oil or butter over medium-high heat.
When hot (being careful not to let the butter burn), pour in a large spoonful (about 2-to-3 tablespoons) of the batter, and immediately tilt the pan so that the batter covers the entire surface. Cook the crepe until the bottom turns light brown, then flip and cook briefly on the other side. Continue cooking the crepe in this manner, adding more oil or butter only as necessary. A pastry brush dipped in the oil or melted butter works well.
Stack the cooked crepes and allow them to cool completely. Wrap tightly in plastic wrap and refrigerate or freeze until you're ready to use them. Allow crepes to return to room temperature before filling them.
Makes about 16 crepes.
Raspberry Filling Ingredients
8 oz. cream cheese, at room temperature
1/3 cup confectioners' sugar
Grated rind of 1 lemon
1/2 teaspoon vanilla extract
1 cup heavy cream, whipped to soft peaks
6 crepes
1 pint fresh raspberries, rinsed and picked over
2 tablespoons Framboise liqueur (optional)
Filling Preparation
In a medium bowl, whip together the cream cheese, confectioners' sugar, lemon rind, and vanilla until the mixture is smooth and fluffy.
Fold half of the whipped cream gently into the mixture until well combined.
Assembly
Lay each crepe on a dessert plate.
Spoon about 1/4 cup of the cream cheese mixture down the middle of each crepe.
Sprinkle a few raspberries on the cream cheese, then fold the crepe by bringing both sides towards the center.
Spoon the remaining whipped cream on top of each folded crepe, and toss on the remaining berries.
Drizzle a little Framboise liqueur over each crepe, if desired.
Serve immediately.
Serves 6.
Crepes taste best when using fresh raspberries.