Raspberry Roasted Beet Mascarpone with Sauce Passion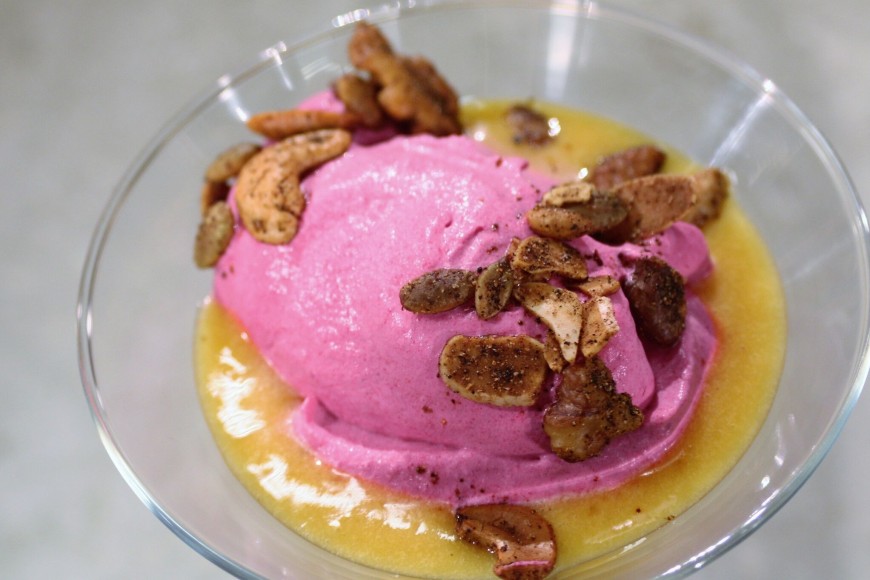 Print Friendly

Chef Jean-Louis Guerin, New England Culinary Institute
Ingredients
7 oz. frozen raspberry
4 oz. roasted red beet, cut in small pieces
2 oz. honey
1 cup mascarpone
1 teaspoon vanilla, or other aroma
2 cups heavy cream, whipped to medium stiff peak
Preparation
Roast beet pieces in oven until tender.
Process into a puree, adding raspberry and vanilla.
Whip heavy cream to medium peak.
Fold mascarpone into raspberry/beet puree, then add the whipped cream.
Gently fold, hand over hand, all ingredients.
Serve in a martini or champagne glass, adding pieces of cake, roasted nuts, or fruits, as you please.
Serve with soft vanilla ice cream, seasoned with white pepper at the last second, or Sauce Passion (recipe follows).
SAUCE PASSION
2 cups passion fruit puree
1 banana (5 oz.)
3 sheets gelatin
Chef's note: Can be prepared up to 5 days in advance, but needs to be refrigerated and covered with plastic food wrap. Of course, subtlety decreases with time.