Red Pine Chicken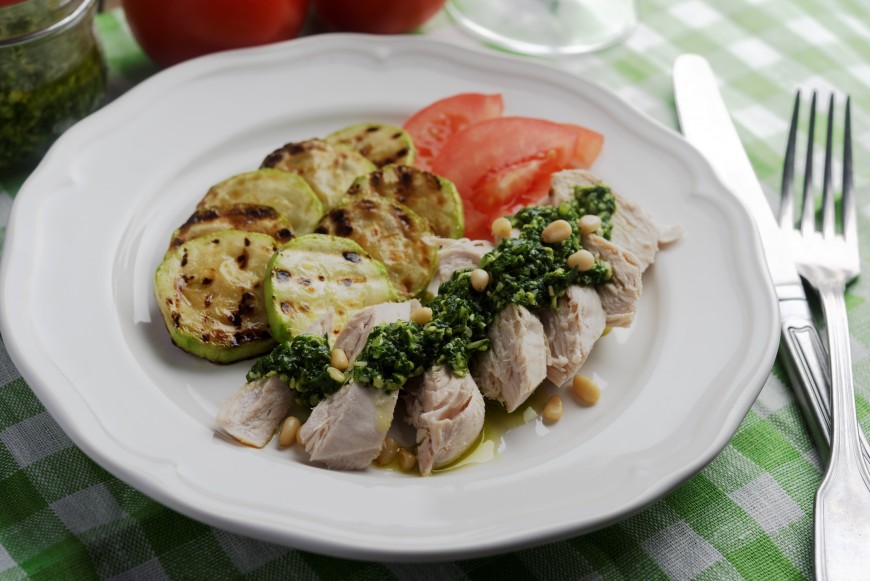 Print Friendly
Steve Bogart, A Single Pebble Restaurant, Burlington, Vermont
Sauce Ingredients
1 tablespoon mushroom or thick soy
2 tablespoons Kikkoman soy (not lite)
2 tablespoons minced ginger
1/2 cup chicken stock
1 1/2 tablespoons sherry
1 tablespoons sugar
4 whole star anise
Sauce Preparation
Mix all ingredients in a bowl.
Chicken Ingredients
4 chicken breasts
6 oz. ground pork
1 tablespoon sugar
1/2 tablespoon salt
1 tablespoon cornstarch (combine with sherry first)
1 tablespoon sherry
2 tablespoons vegetable oil
Chicken Preparation
Mix ground pork with the sugar, salt, and the cornstarch sherry mixture.
Lay chicken breast, rough side up, on a piece of plastic wrap dusted with cornstarch. Place another plastic wrap on top.
Lightly pound out breast to approximately 1/2-inch thick. Remove top plastic wrap.
Place ground pork on chicken breast, patting down uniformly. Dust with cornstarch.
Heat non-stick pan, and add vegetable oil.
Place chicken, with chicken side down, to brown for 1-to-2 minutes.
Turn over to brown pork side.
Lower heat and add sauce. Ladle sauce over every 10 minutes while cooking for 30 minutes.
Slice and serve over wilted spinach.