Rhubarb Infused Vodka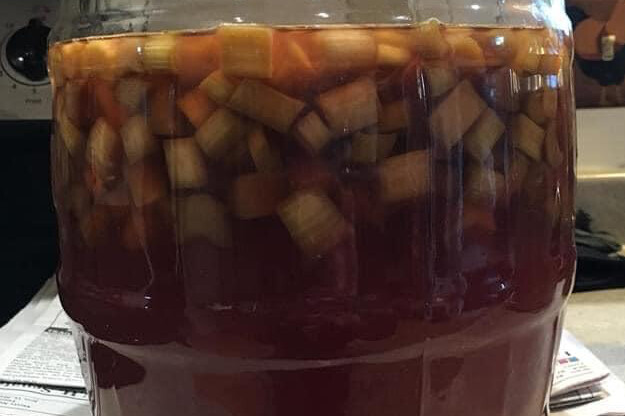 Print Friendly
Rhubarb infused vodka
9 cups rhubarb cut in 1/2" pieces
3 1/2 cups of fine sugar. I use raw organic and grind it fine in a coffee grinder.
1.75 liters of vodka.
Put rhubarb and sugar in a 1 gallon jar mixed well. Add vodka stir well and shake up.
( be sure to have a good tight fitting lid)
Place in cool dark place and shake every few days for a few weeks. After a minimum of 2 months, strain rhubarb and put in smaller mason jars or grolsch style bottles.
I had one batch 4 months before straining. I have infused vodka with organic cherries , raspberries, pineapple, our own plums and blueberries. Blueberry infused gin is also very good. Rhubarb is the only fruit that I have added sugar.
Recipe Courtesy
Denise Guilmette
Flavored liquors (also called infused liquors) are alcoholic beverages that have added flavoring and, in some cases, a small amount of added sugar. ... Flavored liquors may have a base of vodka or white rum, both of which have little taste of their own, or they may have a tequila or brandy base.