Roast Loin of Pork with Root Vegetables Roasted with Sage and Thyme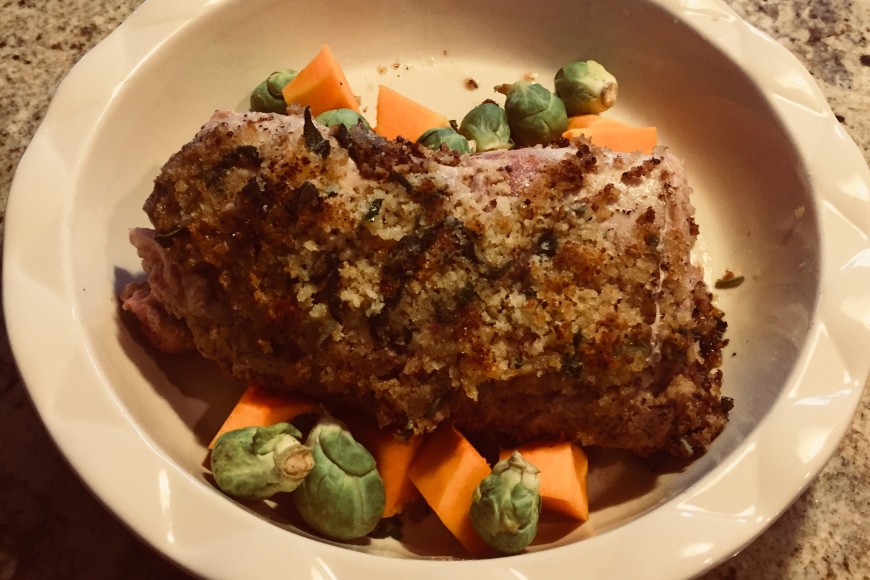 Print Friendly
Recipe courtesy Sandy Zielinski, New England Cooks Co-Host
Ingredients
3-to-4 pounds boneless pork loin
Maple garlic mustard
Salt and pepper, to taste
1/2 loaf fresh French bread, broken into chunks
2-to-3 cloves garlic, finely minced
1 teaspoon sage
1 teaspoon chopped fresh rosemary
1 teaspoon fresh thyme
1 teaspoon fresh parsley
Peeled root vegetables (carrots, onions, parsnips, Brussels sprouts, turnips)
Preparation
Cut up the peeled root vegetables. Add fresh sage and thyme, to season.
Rub the pork with maple garlic mustard, salt, and pepper.
For the bread crumb mix, combine the French bread, garlic, rosemary, thyme, and parsley.
Roll the roast in the bread crump mix.
Braise the roast in a hot frying pan with oil, until each side is golden brown.
Place the roast on top of the vegetables and bake at 375 degrees F for 1-to-1 1/2 hours, or until a meat thermometer inserted into the meat reads 160 degrees F.
Remove the roast and vegetables to a warm platter.
What a handsome platter this is when you thinly slice the delicate pork tenderloin and show off the roasted root vegetables!