Roasted Lamb with Maple Walnut Crust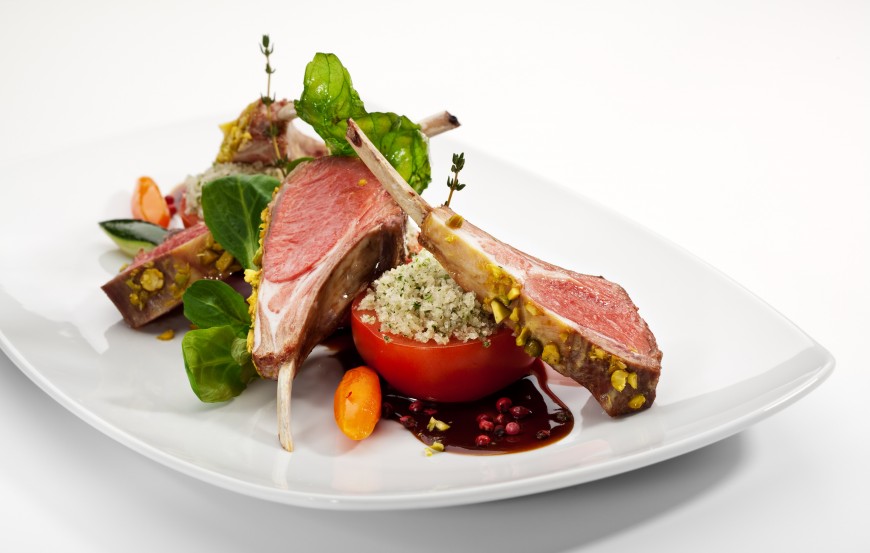 Print Friendly
Executive Chef Juergen Spagolla, Trapp Family Lodge, Stowe, Vermont
Ingredients
26 oz. lamb rack, fresh (you will need one rack of lamb for two people)
Salt and pepper, to taste
1 1/2 cup walnuts, chopped fine
3 tablespoons Vermont maple syrup
1 teaspoon all-purpose flour
Preparation
Clean all the fat off the lamb.
In a separate bowl, mix chopped walnuts, maple syrup, and flour to a paste. Adding the flour to the crust is an option, if it helps to make the crust to be more combined.
Season the lamb rack with salt and pepper, then spread the crust onto the meat. All the meat should be covered with the crust.
Preheat oven to 350 degrees F.
Place the lamb rack in a baking pan and cook for about 20 minutes. The crust should have a nice light brown color.
Take the lamb rack out of the oven and let it rest for 5 minutes before you cut the chops.
The lamb chops can be served with sweet mashed potatoes, French green beans, and a rosemary jus.