Roasted Loin of Pork with Sweet Potato Mash, Wilted Kale, and Maple Cranberry & Apple Chutney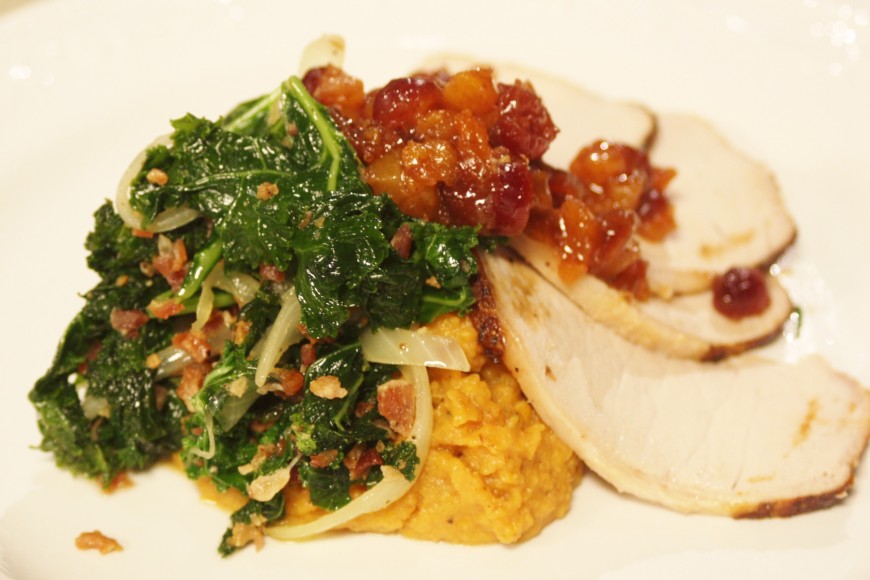 Print Friendly
Chef Paul Fucello – Cornerstone Pub & Kitchen
ROAST
Ingredients
4 lb. pork loin
salt and pepper, to taste
Preparation
Season loin generously with salt and pepper, place on a roasting pan and roast at 375F until thermometer reads 140 F internal temperature.
Let loin rest for 15 minutes before slicing.
CHUTNEY
Ingredients
1 cup maple syrup
1/2 cup light brown sugar
3 cups water
1 tablespoon allspice
1 teaspoon cinnamon, ground
1 1/2 cup dried apricots, diced
1 1/2 cup dried cranberries
Preparation
Mix water, syrup, brown sugar, and spices together in a bowl.
In a sauce pan, add the cranberries and apricots with the liquid mixture, bring to a boil, and reduce to a simmer until most of the liquid has evaporated.
Serve warm or room temperature.
WILTED KALE
Ingredients
1 LB. kale, ribbed, and cut into manageable pieces
1 large white onion, sliced into 1/2-inch thick half moons
4 oz. bacon, cooked and chopped
Bacon grease, as needed
3 cups chicken broth
Salt and pepper, to taste
Preparation
In a shallow sided pan, heat the bacon fat to coat the bottom of the pan about 1/8" up.
Once heated, add the onions and cook until partially tender.
Add the kale and chicken stock.
Once wilted, add the bacon and season with salt and pepper.
MASHED SWEET POTATO
Ingredients
3 lb. sweet potatoes, peeled and cut into large cubes
Honey, to taste
Ground cinnamon, to taste
Butter, to taste
Salt and pepper, to taste
Preparation
In a sauce pan or small pot, add sweet potatoes to boiling water.
Cook until tender, then strain well.
Add back to the pot and mash them well.
Add honey, butter, cinnamon, and salt/pepper in stages until desired flavor is achieved.