Roasted New Potato Salad with Tomato, Olives, and Dill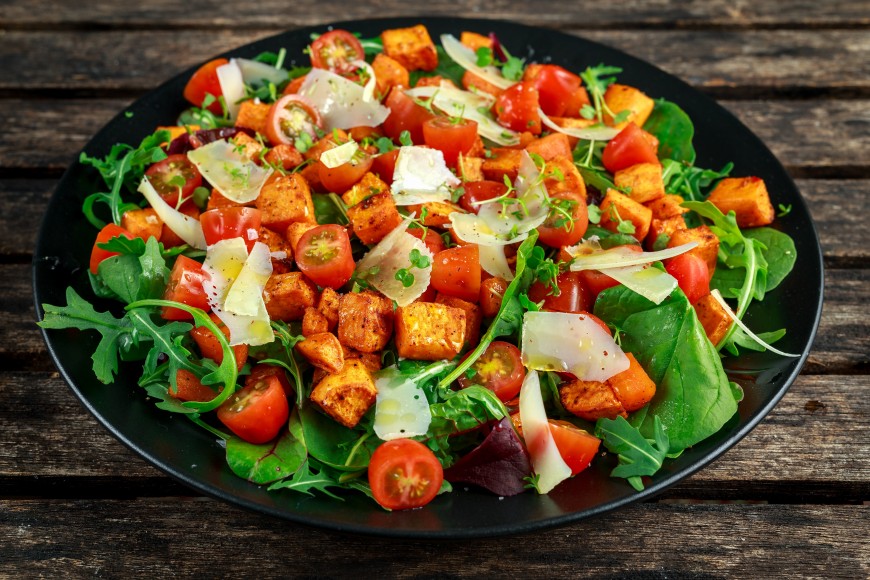 Print Friendly
Chef Will Bohmann, New England Culinary Institute

Ingredients
2 pounds new potatoes, red bliss, baby Yukon gold, fingerling
1 red onion, small dice
2 celery stalks, small dice
1 red, yellow, or green pepper, small dice
2 cloves garlic, minced
2 cups cherry tomatoes, cut in half
1/2 cup pitted assorted olives, Cerignola, Luques, Picholine, Kalamata
1 tablespoon whole grain mustard
1/4 cup fresh chopped dill
1/4 cup extra virgin olive oil
I lemon, juiced
salt and fresh cracked black pepper, to taste

Preparation
Toss potatoes in oil, salt, and pepper.
Roast in 400 degree F oven until tender - about 35 minutes. Check with a knife - should be easy to insert. Let potatoes cool.
Cut in half. They should be the same size as the cherry tomatoes.
In a large bowl, combine all other ingredients along with extra virgin olive oil and lemon juice.
Add potatoes and toss well.
Serve family style on a large platter.
Makes 4-6 servings
Potato salad is always a crowd pleaser for any get together or backyard BBQ. Fresh dill and roasted potatoes go so nice together. Most supermarkets and even smaller stores carry a variety of new potatoes. Some varieties include red bliss, fingerling, and baby Yukon gold.