Salmon Burger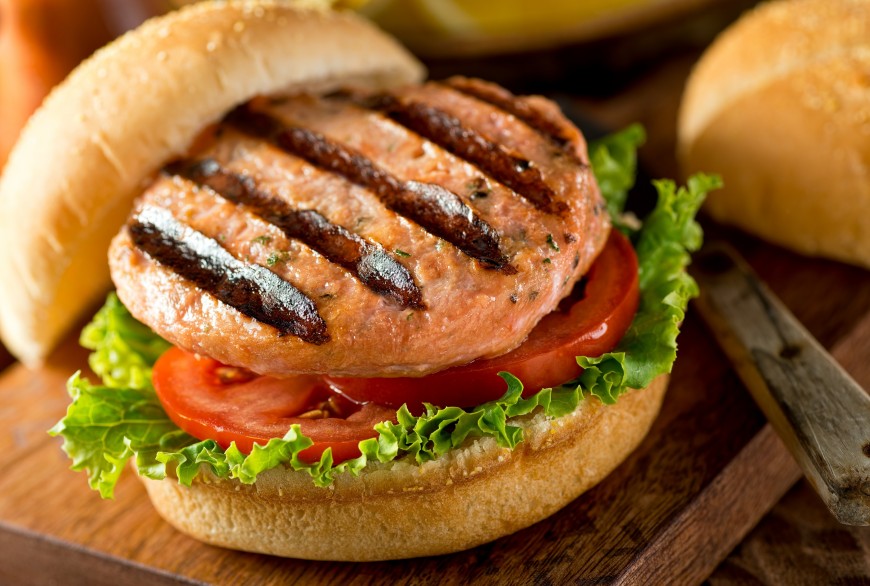 Print Friendly
Josh Nylin, Executive Chef of the Red Jacket Mountain View Resort, North Conway, New Hampshire
Ingredients
1/2 lb. salmon
1 tablespoon fine diced red onions
1 teaspoon capers
1 egg
2 tablespoons bread crumbs
1 thin slice dill Havarti cheese
2 egg yolks
1 cup salad oil
1 teaspoon garlic
2 teaspoon lemon juice
1 tablespoon Dijon mustard (can substitute mayo, lemon juice, and Dijon and will work just fine)
Lettuce
Tomatoes
Burger buns
Preparation
With spoon take salmon off the skin.
Combine salmon, red onions, capers, egg, bread crumbs, and cheese together in a bowl, and mix well.
Form burger patties.
Place on grill and cook.
Aioli Preparation
In blender, add garlic and egg yolks. Slowly add oil.
Once oil is incorporated into the yolks, shut off blender.
Add remaining ingredients and blend together.
Assembly
Build your sandwich and enjoy.