Salmon En Croute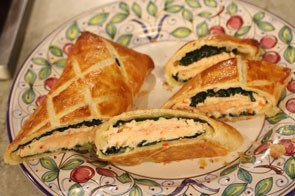 Print Friendly
Jean-Louis Guerin, Executive Chef, New England Culinary Institute
Ingredients
1 lb. salmon trimmings
1/2 each salmon side
1 cup heavy cream
Salt, to taste
Cayenne pepper, to taste
1/2 cup carrot, cut into brunoise, blanch, cool, and dry
1/2 cup kale blanch, cool, and dry
1/4 cup red pepper, cut into brunoise, blanch, cool, and dry
2 frozen puff pastry dough sheets
Preparation
Combine the salmon trimmings, cayenne, and salt, and puree in a food processor until smooth.
While the processor is running, add the cream, and emulsify until well combined and smooth.
Remove the salmon puree from the food processor to a bowl, and fold in the brunoise of carrot and red pepper,
Lay out a sheet of puff pastry dough. Pipe about 1/2-inch layer of salmon mousse, then place a piece of salmon scaloppini on top. Add a second scaloppini and wrap with kale leaves.
Brush the edges of the dough with egg wash. Place another piece of dough on top, making sure to press the two dough sheets together firmly where they are egg washed.
Trim any excess dough away with a pairing knife.
Bake in a 375 degree F oven until the internal temperature is 165 degrees F.