Sauteed NY Sirloin & Bordelaise Sauce Topped with Melted Gorgonzola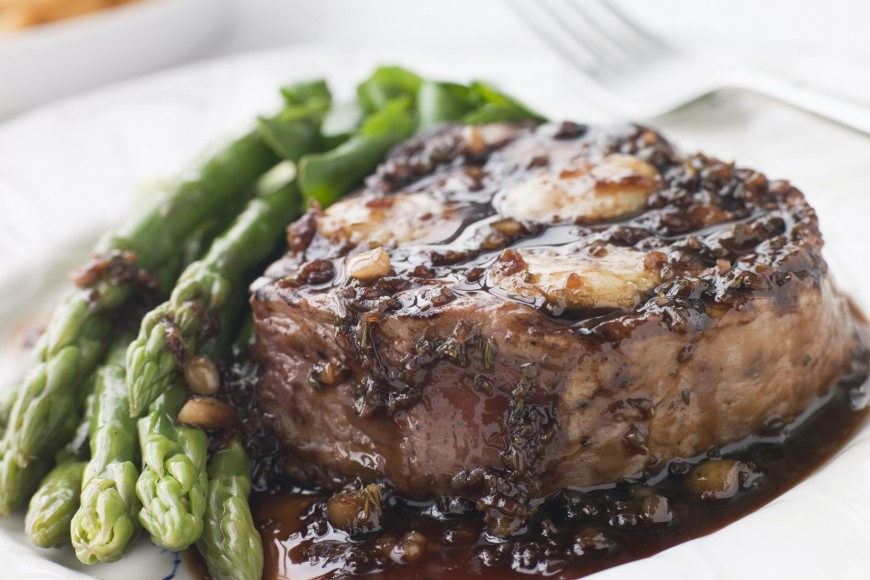 Print Friendly
Chef Allen McEdward, Gracie's Restaurant, Stowe, Vermont
Ingredients
2 cups burgundy wine
2 sprigs fresh thyme
1 large shallot
2 bay leaves
10 black peppercorns
Boyden Farm New York sirloin steaks
Salt and pepper, to taste
Gorgonzola cheese
Preparation
For the bordelaise sauce, rough chop shallots and add to wine with the thyme, bay leaves, and peppercorns in a small sauce pot. Boil the wine until it has all evaporated except about 2 tablespoons.
Add prepared demi glace and simmer for 10 minutes. Pour sauce thru a sieve. Will yield enough for 4 sirloin steaks.
Put a large sauté pan on high heat. Season the steaks with salt and pepper, to taste. Add enough oil to the pan to cover the bottom, but not so much that it splatters when the steaks are added.
When the oil is hot, add the steaks and sear each side on high heat. After both sides have been seared and are golden brown, reduce heat and continue to cook until the steaks are just below the level of your preferred doneness.
Place steaks on sheet pan and cover the top with crumbled gorgonzola cheese. Place under broiler and let the cheese heat up until soft and partially melted.
Plate the steaks, and ladle prepared bordelaise sauce over them.