Sauteed Shiitake Mushrooms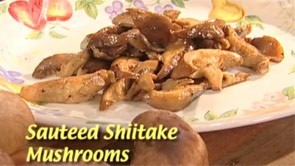 Print Friendly
Blueberry Hill Inn, Goshen, Vermont
Ingredients
1 pound fresh shiitake mushrooms
1/4 cup melted butter
1/4 cup olive oil
1/4 cup balsamic vinegar
Salt and freshly ground black pepper, to taste
Preparation
Rinse the mushrooms, pat dry, and slice.
In a large heavy skillet, heat the butter and olive oil over medium heat.
Add the mushrooms and sauté until just cooked.
Add the balsamic vinegar and continue to cook until the mushrooms are coated and the pan is deglazed.
Season with salt and pepper, and serve immediately.
Serves 8.