Scallion Potato Spring Rolls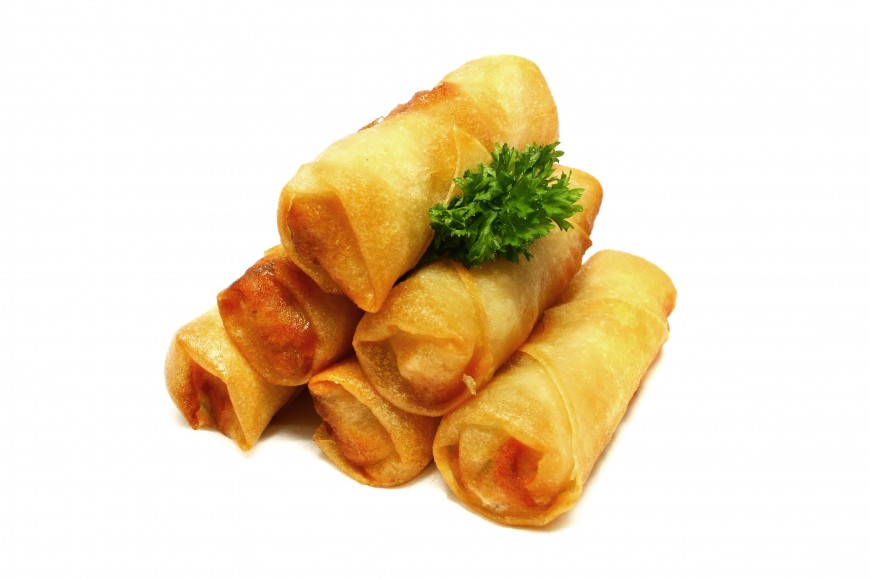 Print Friendly
Ingredients
4 spring roll or egg roll wrappers
1 egg beaten with 1 oz. water
4 potatoes (Yukon Gold or other)
1 bunch scallions, trimmed and sliced
4 tablespoons butter
4 tablespoons heavy cream
salt and pepper, to taste
Preparation
Bake potatoes in a 450° F oven until easily pierced with a fork. Allow to cool slightly.
Halve and scoop potato flesh from skins and put in mixing bowl.
Using a slotted spoon or potato masher, mash potatoes lightly with the butter, heavy cream, scallions, salt, and pepper.
Lay a spring roll wrapper on a counter or cutting board with one corner of the wrapper facing you.
Take a heaping spoonful of potato mixture and place in center of wrapper.
Brush edges of wrapper with beaten egg and roll up tightly around potato mixture. Start with the corner nearest you, then sides, and finish by rolling over top corner.
Repeat with remaining spring roll wrappers and potato mixture.
Deep fry rolls in 375° F deep fryer until light golden brown, about 30-to-35 seconds.
When not in use, keep spring roll wrappers covered with a damp paper towel so they don't dry out.
Great served with sour cream or apple sauce!