Sea Bass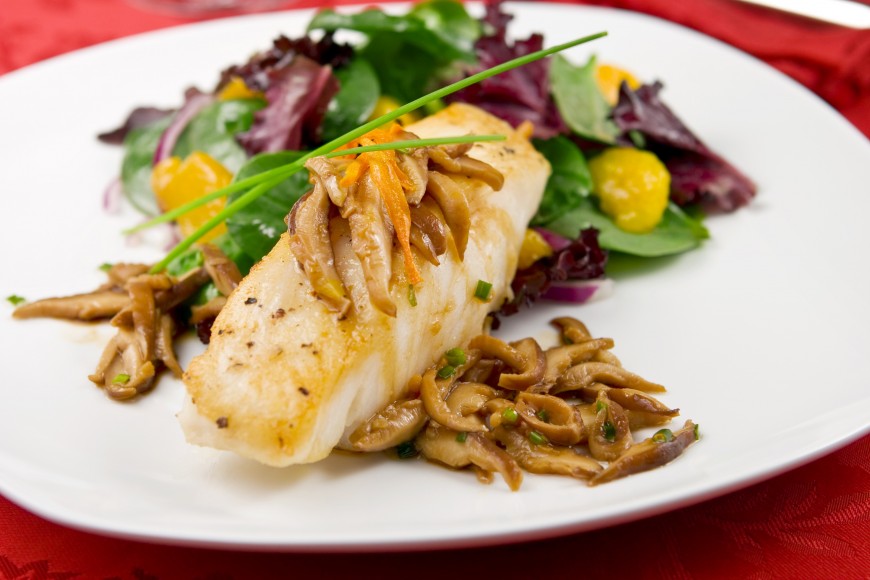 Print Friendly
The Orchards, Williamstown, Massachusetts
Ingredients for Bass
7 oz. sea bass filet, with skin on
Aromatics (star anise, cumin, coriander seeds, Szechuan peppercorns, and cardamom)
Clarified butter, for frying
Bass Preparation
Heat clarified butter in frying pan. Place fish, skin side down, in pan and cook a few minutes on each side.
After turning, put aromatics on top of fish.
Place pan in preheated 375 degrees F oven and bake for 8-to-10 minutes.
Singapore Noodles Ingredients
4 oz. Chinese egg noodles
1 red bell pepper
1 carrot
2 cloves garlic, sliced
1 leek (only white part)
2 oz. shiitake mushrooms
2 oz. oyster mushrooms
Chopped fresh coriander
Thai fish sauce (for saltiness)
Ketjab Manis (for sweetness)
Light soya sauce
Oyster sauce
Sesame oil
Noodles Preparation
Peel the vegetables and slice them with a cutting machine or a mandolin. Cut everything into julienne.
Sauté the vegetables and garlic in a pan.
Add the noodles, coriander, and a splash of each sauce, to taste.
Cumin Sauce Ingredients
2 cloves garlic
1 teaspoon brown sugar
1 shallot
1 tablespoon toasted cumin seeds
1/2 banana
1/2 apple (peeled)
1 cup cream
1/2 cup chicken broth
1/2 cup coconut milk
Juice of 1 lime
Cumin Sauce Preparation
Sauté the shallot and garlic in butter. Add the brown sugar and fruits. Fill it up with the cream, broth, and coconut milk and let simmer for about 10 minutes.
Mix everything in a blender, and then strain through a sieve.
Add a splash of lime juice and season with brown sugar and fish sauce, to taste (the fish sauce is for saltiness).
Garnish with micro greens.