Seafood Bisque in Pastry Shells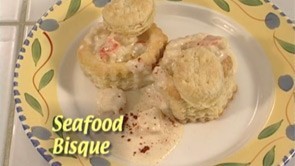 Print Friendly
Ingredients
6 pre-baked pastry shells (1 package)
8 oz. lobster meat or other seafood
1 tablespoon butter
1 cup half & half
2 tablespoon sherry
2 tablespoons roux
Pinch nutmeg
Pinch paprika
Pinch white pepper
Preparation
Make a roux by melting 2 tablespoons butter in saucepan. Add 2 tablespoons flour, and whisk until blended and thick.
Sauté lobster in 1 tablespoon butter. Add roux, and slowly add half and half, stirring constantly to thicken.
Add 2 tablespoons sherry, and pinches each of nutmeg, paprika, and white pepper.
Spoon into pre-baked pastry shells. Chill in refrigerator prior to serving.
Serves 3.