Seafood Paella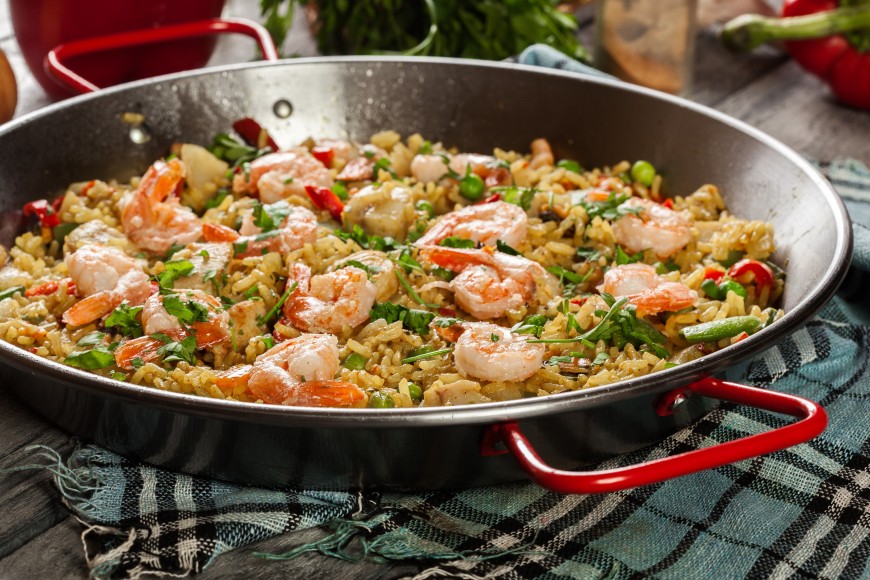 Print Friendly
John Egan's Big World Pub & Grill
Saffron Rice Ingredients
4 tablespoons olive oil
2 cups basmati rice
Water
1 pinch saffron
Saffron Rice Preparation
Heat oil in saucepan, add rice, and sauté until coated evenly.
Add water until 1/2-inch above rice is covered.
Add 1 pinch of saffron, bring to boil, cover, reduce to low heat, and cook 10 minutes. Check to see if water is absorbed; if yes, turn off heat, and let stand 2 minutes covered.

Paella Ingredients
4 tablespoons olive oil
1 Spanish onion, chopped
1/2 yellow pepper, chopped
1/2 green bell pepper, chopped
4 oz. Chorizo, chopped
8 shrimp, shelled and deveined
6 oz. Pollack fish, cut up
12 mussels
1 tomato, diced
1/2 cup peas
1/2 cup artichoke hearts, chopped
2 cups chicken stock
1/2 red bell pepper, chopped
2 cloves garlic, minced
1 sprig each of fresh oregano and fresh thyme
4 oz. ham (could be any meat), chopped
Pinch of crushed red pepper
Salt and pepper, to taste
Paella Preparation
Heat oil and sauté onions, peppers, chorizo, and ham until onions are translucent.
Add saffron rice, artichoke hearts, peas, tomato, garlic, oregano, thyme, and crushed red pepper. Add salt and pepper, to taste.
Once thoroughly mixed, stir in shrimp, mussels, and fish.
Add chicken stock, as needed, to keep dish moist and slightly liquid.
Serves 4.