Sean & Nora's Spinach Salad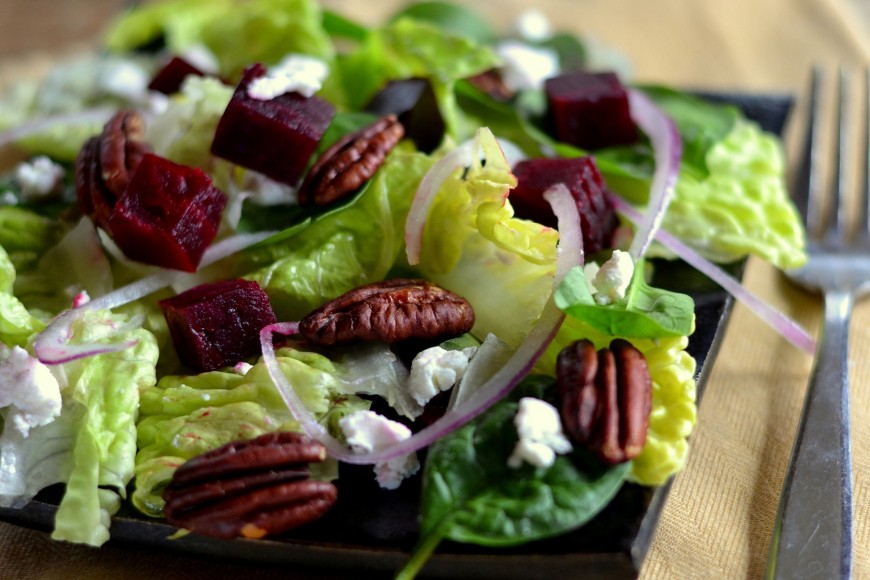 Print Friendly
Chef Rich Lechner, Sean & Nora's, Barre, Vermont
Salad Ingredients
5 oz. baby spinach
2 tablespoons walnut pieces
2 tablespoons pumpkin seeds (pepitas)
3 tablespoons sundried cherries
1/4 cup shaved red onion
1/4 cup Vermont Butter & Cheese goat cheese
Salad Preparation
Toast walnuts and pumpkin seeds at 375 degrees F for 2-3 minutes.
When toasted seeds and nuts come out of oven, add dried cherries. Allow mixture to cool.
Toss spinach, onion, and toasted mixture together in bowl.
Drizzle with 3-4 oz. of vinaigrette.
Garnish outside of plate with goat cheese and place dressed salad in the middle.

Vinaigrette Ingredients
2 tablespoons chopped shallot
1 tablespoon chopped garlic
1/2 tablespoon chopped fresh rosemary
1/4 cup balsamic vinegar
2/3 cup olive oil
3 tablespoons Vermont maple syrup
1 teaspoon kosher salt
1/2 teaspoon fresh ground pepper
Vinaigrette Preparation
Combine all ingredients except olive oil.
Using a hand blender or food processor, drizzle in olive oil.
Cover and refrigerate up to 7 days.
Serves 2.