Seared Duck Breast Salad with Moosewood Hollow Sweet Savory, Tasso, and Creole Mustard Vinaigrette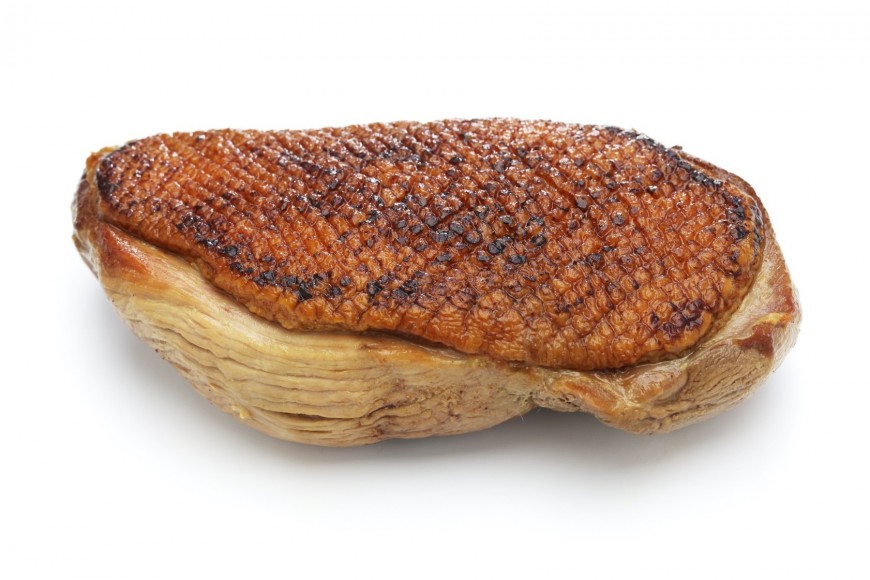 Print Friendly
Dressing Ingredients
3 oz. Moosewood Hollow Sweet Savory
4 oz. extra virgin olive oil
1 oz. Zatarain's Creole mustard
2 oz. Tasso, fine diced
1 tablespoon lemon juice
1 teaspoon Crystal Hot Sauce
1 tablespoon salt

Salad Ingredients
4 oz. mesclun greens
2 oz. Romaine lettuce
1 oz. roasted red peppers
1 oz. marinated artichoke hearts
1 oz. sun-dried tomatoes
1 oz. cucumbers, peeled and sliced
1 oz. toasted pecans
1 oz. feta cheese
1 oz. hearts of palm

Skillet
1 tablespoon vegetable oil
4 duck breasts
2 tablespoons Mark's Madness or Paul Prudhomme Seasoning Blend
1 oz. dressing

Preparation
Coat duck breasts with seasoning blend.
In a skillet over medium-high heat, add vegetable oil, then sear duck breasts on both sides until brown and a little crispy.
Place skillet in the oven at 350 degrees F for 10 minutes, until medium-well done.
In a mixing bowl, add all dressing ingredients and whisk until homogeneous. Leave on the side.
In a salad bowl, add all salad ingredients. Add dressing, reserving 1 oz., and toss well.
Pull skillet with duck from oven. Remove breasts and slice into julienne strips about 1/4-inch thick.
Place breasts on top of salad. Deglaze skillet with dressing and pour over duck.
Serve immediately.
Serves 4.