Seared Sea Scallops with Seafood Risotto and Lemon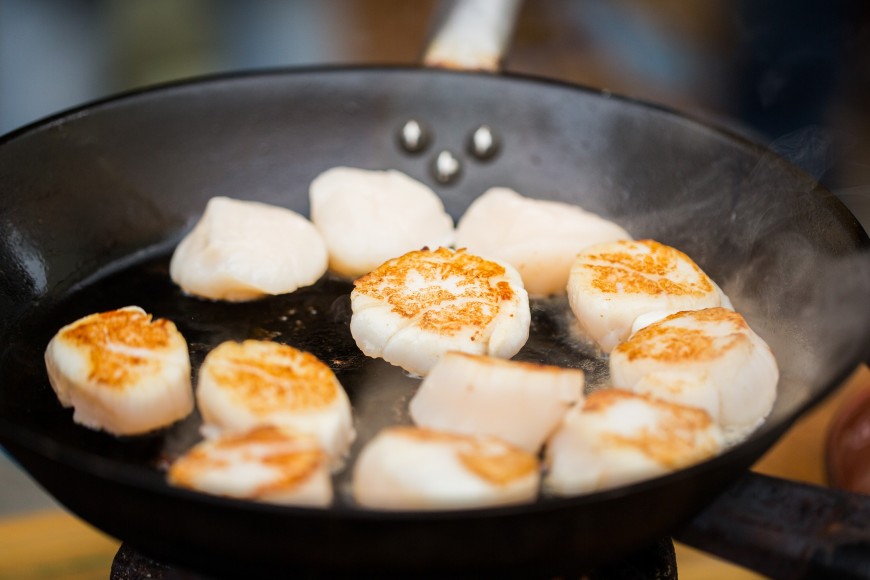 Print Friendly
Bill Stewart, Executive Chef, Blue Latitudes Bar & Grill, Dover, New Hampshire
Ingredients for Scallops
4-to-5 jumbo scallops
White wine
Lemon butter
Canola oil
Scallops Preparation
Remove muscle located on side of scallop, keep very dry (in fact, ask your fishmonger for dry scallops, they will know what you are talking about).
Place scallops into searing hot pan with a little canola oil. When you think you should turn them, DON'T, let them sear. Yes, you can peak. (Moving them permits the water to start to bleed out and therefore they will no longer sear.) After 3 minutes, turn and repeat the process.
At the end, deglaze the pan with dry white wine, a tad of fresh lemon, and a touch of salt and pepper.
Risotto Ingredients
1 cup uncooked Arborio rice
2 1/2 cups stock (use a combination of seafood stock and a tad of chicken stock)
1/2 cup picked-over crabmeat (watch out for tiny pieces of shell)
1/2 cup chopped raw shrimp (add any other seafood that you wish to enhance this dish; could be lobster, fish, smoked seafood)
1/2 cup fresh dill
Salt, to taste
White pepper, to taste
1/2 cup fresh shredded parmesan cheese
1/2 stick unsalted butter
1/2 medium onion, diced
Risotto Preparation
Heat stock in a pot.
Chop onion and add to sizzling butter in non-stick pan, swirl, and cook till transparent.
Add rice and, using a swirling motion, stir to include the onion and rice mixture. When this is hot, slowly begin to add the hot stock. (The trick here is hot stock added to warm rice begins the process of unleashing the glutens from the rice.) Stir until absorbed into the rice, then add more stock, etc., till fully cooked.
At the end, add seafood, dill, salt, pepper, and parmesan cheese, and cover.
To plate, place seared scallops on top of risotto, and top with lemon butter, or burre blanc wine.
Garnish with fresh dill.
This dish is simple, joyful, and can be exercised by anyone with a limited time frame. Scallops are especially succulent at this time of year and a joy with a hearty seafood risotto; you can vary the inclusion of seafood depending on your preferences. Here we use gulf shrimp, crab, and dill. Lobster also makes this dish especially perfect for the holidays.