Smoked Cheddar Soufflé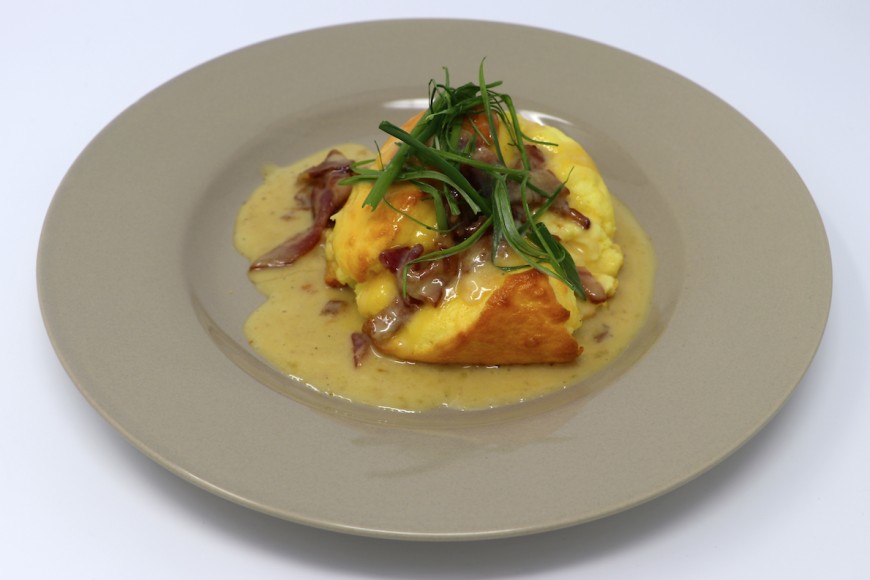 Print Friendly
Chef Aaron Martin from PLATE Stowe, Vermont
Ingredients
5 Tablespoons unsalted VT butter
4 Tablespoons King Arthur Flour
1 cup Milk
5 ounces smoked cheddar (grated)
5 eggs (separated)
1 Tablespoon additional butter for dishes
1 Cup Panko
Procedure
Melt butter in saucepan. Add flour and stir for one minute. Add milk and whisk until smooth. Reduce heat to medium. Stir until thickened, turn off heat and add shredded cheese. Stir until melted.
Using the additional 1 T butter grease dishes and coat with Panko. Discard any excess Panko. Pre heat the oven to 325.
In a separate bowl whisk eggs whited until stiff peaks form. Add egg yolks to béchamel and cheese mixture. Take 1/3 egg whites and fold into béchamel until smooth. Fold in bechamel into remaining egg whites. Gently fold in until smooth.
Pour mixture into greased and Panko lined souffle dishes and place onto a sheet pan in the oven with a small amount of water in the pan below the dishes. Set timer for 20 minutes. Once golden-brown remove from oven and cool.
While cooling, cook your bacon and remove from grease. Save the grease for cooking with later. It's too delicious to throw away.
When ready to serve and once the souffle have fully cooled and fallen into place, you may remove them from the dishes and place in a saucepan with enough heavy cream to generously coat the Bottom of the pan. Place in the oven at 400.
Place cut up cooked bacon in a saucepan with 1 T maple syrup turn on high heat and add heavy cream. Add salt and pepper and reduce by 2/3.
Remove the Soufflé from oven and place on plates. Generously poor sauce over Soufflé. Garnish with an apple slice or green garnish or both! Enjoy... It was easy!