Smoked Chicken with Wild Mushroom Tapenade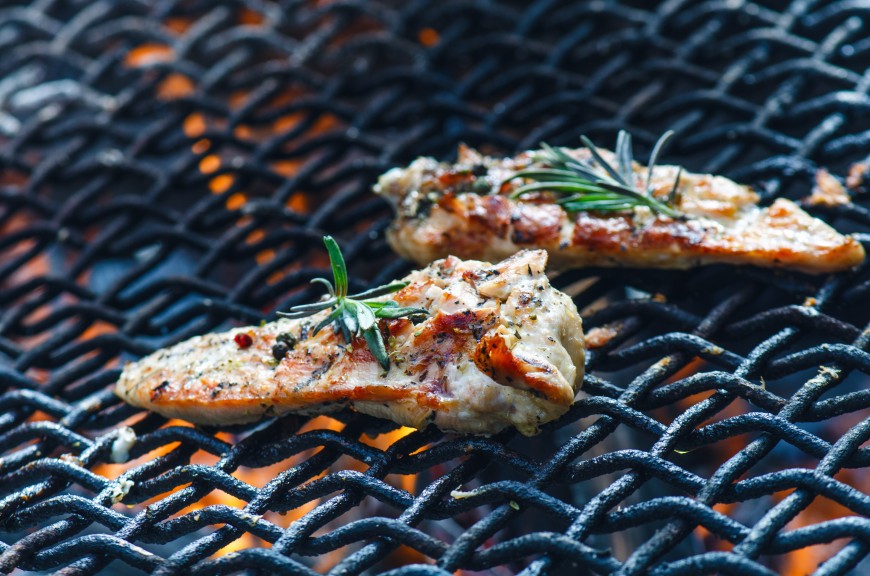 Print Friendly
Ingredients
1 red pepper
1 green pepper
1 medium sweet red onion
1 medium tomato
1 tablespoon olive oil
2 whole boneless, skinless chicken breasts (cut in half)
Preparation
Smoke chicken ahead of time using your favorite recipe or purchase smoked chicken at your local market.
Keep chicken refrigerated until ready to use.
WILD MUSHROOM TAPENADE
1/2 lb. Portobello mushrooms
1/2 lb. Shiitake mushrooms
1/2 lb. Oyster mushrooms
10 white mushrooms
3 oz. sundried tomatoes, soaked until soft
4 teaspoons shallots
3 cloves garlic
1/4 cup capers
6 anchovy fillets
2 oz. Asiago cheese, cubed
1 teaspoon fresh rosemary
1 teaspoon fresh thyme
3 teaspoons white truffle oil
3 cups extra virgin olive oil
Wild Mushroom Tapenade Preparation
Grill mushrooms over low flame.
In your food processor bowl, add grilled mushrooms, sundried tomatoes, shallots, garlic, capers, anchovy fillets, cheese, rosemary, and thyme.
Drizzle with white truffle oil.
Attach food processor bowl cover and process on pulse until finely chopped.
Slowly add extra virgin olive oil while processor is running.
Final Preparation
Tightly wrap refrigerated chicken breasts in foil and place in a 350 degree F oven for about 15 minutes to heat.
While chicken is heating, julienne the peppers and chop red onion and tomato.
In a medium pan, sauté the peppers, red onion, and tomato in olive oil.
Place on plate, followed by boneless chicken breast, and mushroom tapenade.
Drizzle with reduced balsamic vinegar.
Serves 4.