Sole with Two Souffles & Lemon-Chive Buerre Blanc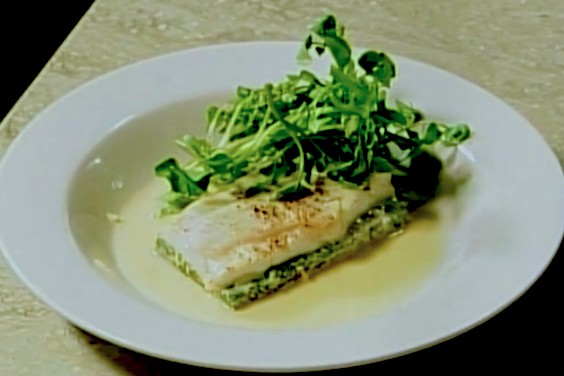 Print Friendly
Bob Hildebrand, Three Stallion Inn, Randolph, Vermont
Soufflé Ingredients
1/4 pound butter
1/4 pound flour
1 quart milk
8 eggs, separated
8 oz. mushrooms
8 oz. baby spinach
1 1/2 pounds fillet of sole
Soufflé Preparation
Melt the butter in a heavy sauce pan. Stir in the flour to make a roux. Whisk in the milk, and cook over medium-high heat, stirring constantly, until the soufflé base becomes quite thick.
Put the sauce into a mixer with the whisk attachment. Mix, adding the egg yolks one a time. Continue mixing until the soufflé base is cooled. Set aside.
Heat the oven to 375 degrees F.
Slice the mushrooms and sauté them over high heat until they are soft and the moisture they give off is absorbed. Season the mushrooms, and puree in a food processor.
Cook the spinach in a little water until just wilted. Drain, shock, and puree in a food processer with some salt and pepper.
Divide the soufflé base in half. Incorporate the mushrooms into one half and the spinach into the other.
Whip the egg whites until stiff, and fold half of the whites into each mixture.
Line two 9x13-inch pans with parchment paper. Spread the mixtures in the pans. Put each pan into a larger pan, and add hot water to the larger pan to make a water bath. Bake for 15-to-20 minutes, until the soufflés are set. Remove from the oven and allow to cool.
Buerre Blanc Ingredients
1 cup white wine
1 tablespoon white wine vinegar, or Verjus Blanc
2 tablespoons shallot, minced
2 tablespoons heavy cream
1/4 pound butter
2 tablespoons chives, minced
1 tablespoon lemon juice
Buerre Blanc Preparation
Put the wine, vinegar (or verjus), and shallots into a small heavy saucepan. Cook over medium-high heat until almost evaporated. Add the cream.
Cut the butter into small pieces and whisk in to make an emulsion. Add the lemon juice. Season with salt and pepper and, at the last moment, add the chives.
Assembly
Turn the spinach soufflé out onto a cutting board.
Carefully turn the mushroom soufflé out on top of the spinach soufflé. Arrange the sole over the soufflés in a layer.
Season with salt and pepper and coat with a little oil or pan spray.
Trim the edges and cut into four rectangular pieces. You can make the dish up to this point several hours in advance.
Wrap and refrigerate.
Serves 4.