Sour Cream Coffee Cake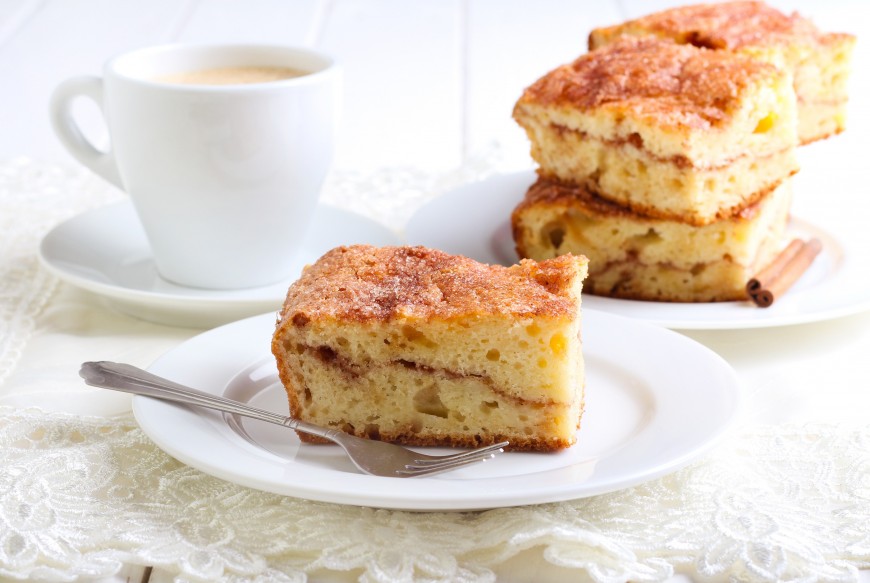 Print Friendly
Alison White, Barre, Vermont, Holiday Recipe Contest Winner, Dairy Category
Ingredients
1 1/2 cups Shaw's sugar
2 cups Shaw's flour
2 Shaw's eggs
1 1/2 teaspoons Shaw's vanilla
1 teaspoon baking powder
1 teaspoon baking soda
1/2 teaspoon Shaw's salt
1/4 pound melted Shaw's butter
1 1/2 cups Shaw's sour cream, regular or fat free
3 teaspoons cinnamon
1 1/2 cups Granny Smith apples, peeled, cored, and sliced
1/2 cup chopped walnuts (optional)
Preparation
Preheat oven to 350 degrees F.
To make batter, mix together until smooth: 1 cup sugar, flour, eggs, vanilla, baking powder, baking soda, salt, melted butter, and sour cream.
To make topping/filling, mix together 1/2 cup sugar, cinnamon, and Granny Smith apples.
Grease a 9-inch tub pan (preferably one that the bottom pops out of).
Alternate layers of batter with topping/filling. Add 1/2 cup of chopped walnuts to top, if desired.
Bake 30 minutes.
Remove from oven. Let cool fully and then remove sides of pan.
Serve immediately.
Thanks to Alison White for this delicious holiday recipe. Alison has won a Keurig Single Cup Coffee Brewer and a one-year supply of K-cups from Green Mountain Coffee Roasters. Congratulations!