Squid Stir Fry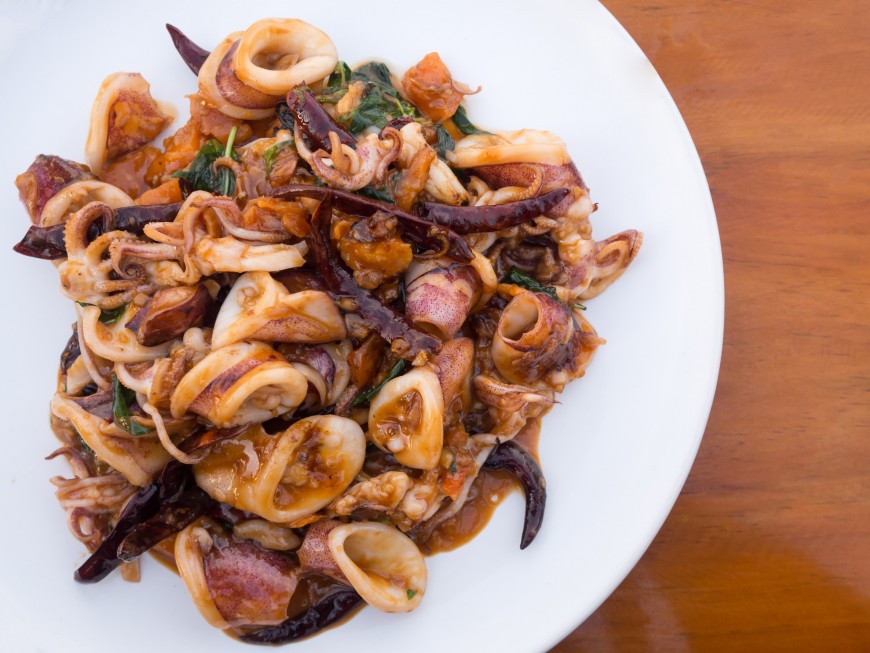 Print Friendly
Ingredients
4 squid
1/2 cup flour
1-to-2 cups linguini, cooked
1/2 tablespoon brown sugar
2 tablespoons sesame oil
1 teaspoon chopped garlic
1 teaspoon ginger
1 teaspoon scallions
1 tablespoon black bean sauce
1 tablespoon rice wine vinegar
2 teaspoons Thai chili paste
1/2 cup yellow squash, chopped
1/2 cup snow peas
1/2 lemon peel, grated
1/2 cup broccoli, chopped
1/4 cup yellow onion, chopped
1/2 cup green pepper, chopped
Preparation
Combine garlic, ginger, and scallions first for vegetable base. Set aside.
Combine cold black bean sauce, rice wine vinegar, and Thai chili paste for the sauce for the vegetables. Set aside.
Cook pasta.
Batter squid in flour with a pinch of salt and pepper.
Heat oil and add combined garlic, ginger, and scallions to wok.
Add squash, snow peas, lemon peel, broccoli, onion, and green pepper, and stir-fry for about 3 minutes, or until tender. Sprinkle in brown sugar.
Add sauce, and heat for another minute. Remove from wok.
Heat more oil in wok and fry squid until tender.
Place pasta in bowl, then stir-fry vegetables, and top off with fried squid.
Serves 2.