Stuffed Chicken Breast with Vegetables & Spinach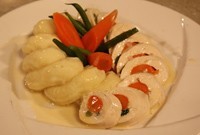 Print Friendly
Chef Robert Barral, Cafe Provence, Brandon, Vermont
Ingredients
4 skinless chicken breasts
1 cup spinach (blanched)
1/2 cup carrot (julienne)
1/2 celery (julienne)
Potatoes
Heavy cream (heated)
Butter
Salt and pepper, to taste
Lemon Butter Sauce Ingredients
1/2 red onion (peeled and diced)
I cup white wine
1/2 cup heavy cream, heated
1/2 lb. whole butter (unsalted)
1/2 lemon, juice
Salt and pepper, to taste
Preparation
Julienne the carrot and celery. Blanch in boiling water for only a couple of minutes, then shock in an ice bath to stop the cooking process. Use the same procedure to blanch the baby spinach. Reserve the vegetables on ice until ready to stuff the chickens.
Pound the chicken breast very thin in between 2 sheets of plastic wrap. Place the blanched vegetables on the inside of the breast and roll until all is covered. Keep the rolled chicken breast in plastic wrap tightly sealed. Refrigerate until ready to cook.
Place a pot of water on the stove. Bring to the boil and place the chicken breasts in the boiling water. Bring the temperature down to a gentle simmer, and cook the chicken for 10 minutes, until it gets firm. Remove from the water bath and immediately chill, or if it is to be serve right away, let rest for a few minutes and slice.
Cook the potatoes with water and salt. As soon as the potatoes are completely cooked, drain all the water from the pot and rice the potatoes through the ricer. At the end of this process, incorporate the hot heavy cream to the potato puree and mix well to eliminate any lumps. Finish with a piece of butter and salt. Place the mashed potato in a pastry bag and pipe on a plate.
For the sauce, combine the white wine, heavy cream, and diced red onions in a pot and bring to the boil. Start adding the diced butter to make the emulsion. Add the butter slowly and gradually until it has all being incorporated into the sauce. Boil one more time at the end of the process, then add the lemon juice and salt, and taste.
If the chicken breast are cold, reheat a few minutes, and slice. Then place nicely on top of the mashed potatoes.
Serve immediately with the lemon butter sauce.
Serves 4.