Summer Tomato Salad with Red Wine & Basil Vinaigrette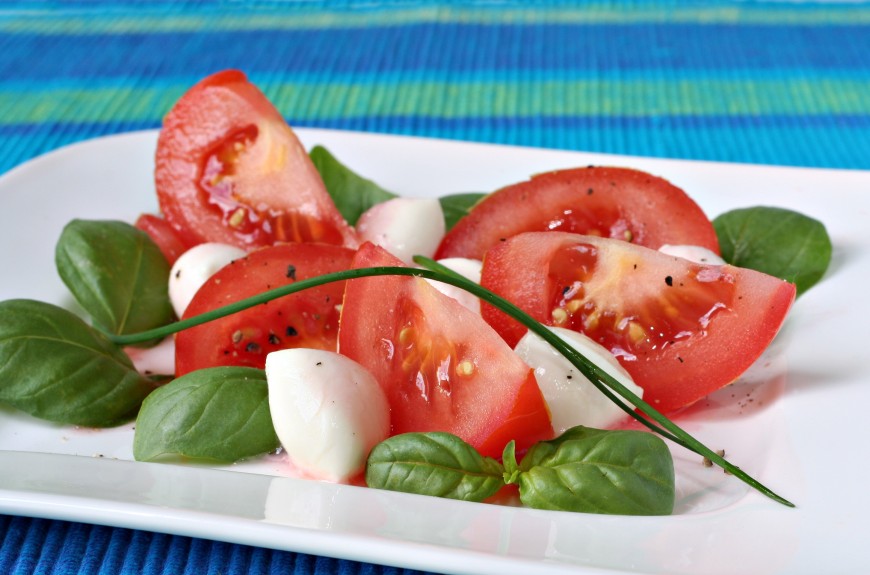 Print Friendly
Ingredients
2 baseball-size ripe tomatoes
1 clove garlic
4 basil leaves
1/4 cup red wine vinegar
3/4 cup extra virgin olive oil
Kosher salt
Fresh cracked black pepper, to taste
Vinaigrette Preparation
Peel garlic, remove green germ in any, and mince.
Chop basil finely.
Place basil and garlic in Mason jar with vinegar and oil, and shake vigorously

To plate
Slice tomatoes into three large slices, then slice in half.
Arrange slices like a pinwheel.
Season with salt and pepper, and drizzle with vinaigrette.

Serves 2.
Note: In the summer there is no fresher ingredient than the tomato. There are countless varieties and their uses vary. Almost any tomato will do for this summer appetizer or salad. You may even choose to add some salad greens, mozzarella, feta, or even goat cheese.