Tarte Tatin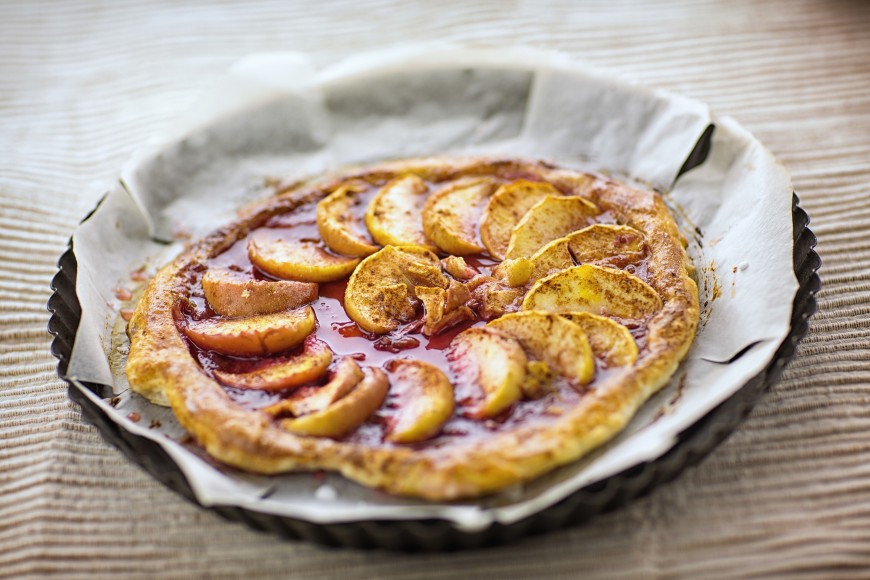 Print Friendly
Chef Roberta Blake, New England Culinary Institute (NECI)
Pastry Ingredients
1 1/2 cups flour
2 1/2 tablespoons sugar
Pinch salt
7 tablespoons sweet butter (chilled and cubed)
1 egg yolk
2 tablespoons ice water
Pastry Preparation
Place flour, sugar, and salt in bowl. Work butter in by hand until mix looks like coarse meal.
Add egg yolk and ice water. Mix until dough is firm but not dry.
Wrap and chill.
Filling Ingredients
1/2 cup sweet butter
1 cup sugar
4 1/2 pounds crisp apples
Filling Preparation
Slice butter, and place evenly on bottom of a 12-inch cast iron skillet. Sprinkle sugar over evenly. Place peeled-cored apples on top. (Apples are sliced in halves, round side down into butter/sugar mix).
Cook 20-30 minutes on stove top.
Preheat oven to 425 degrees F.
Roll out pastry dough and place on top of cooked apples, gently tucking in sides.
Prick pastry crust with a fork and bake in oven for 20-30 minutes.
This recipe is also called "The Upside Down Apple Tart."