Thai Chicken Vegetable Soup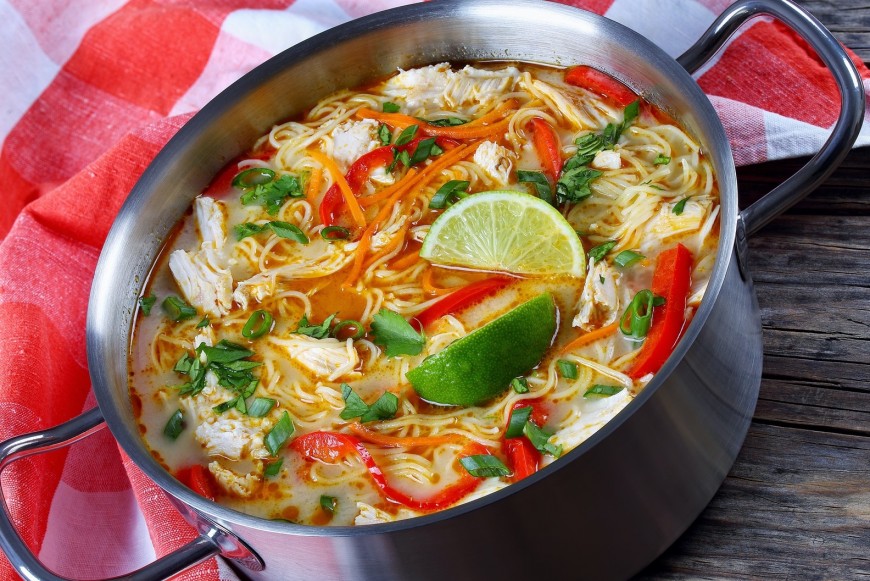 Print Friendly
Recipe courtesy of Ian Hulbert & Michael Gallo, 8th Graders at Barre Town School, Barre, Vermont
Ingredients
3 sweet potatoes
48 oz. chicken broth
3 boneless chicken breasts
3 shallots or an onion
1 large clove garlic
1-2 serrano chili peppers
1/2 green pepper
1 15 oz. can diced tomatoes or 3-4 diced fresh tomatoes, slightly mashed and salted
1 15 oz. can coconut milk
1/3-1/2 cup cilantro, chopped
Preparation
Peel, dice, and microwave sweet potatoes until they are tender but firm, about 10 minutes.
Put the chicken broth in a soup pot.
Dice the chicken and add to the pot. Simmer the chicken for 10-15 minutes until cooked through.
Chop the onion, garlic, and peppers. Sauté in a little oil for about 5-7 minutes.
Add the sweet potatoes, sautéed veggies, tomatoes, and coconut milk to broth and chicken. Simmer and add salt and pepper to taste.
Add chopped cilantro to taste.
Variation for a thicker soup: puree all the vegetables before you add the coconut milk, and then add that to the chicken broth.