Thin Tomato Pie with Goat Cheese Cake and Greens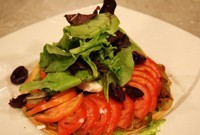 Print Friendly
Chef Robert Barral, Café Provence, Brandon, Vermont
Ingredients
6 Roma tomatoes2 Spanish onions (depending on the size)
Olive oil
1/2 cup Kalamata olives
6 teaspoons basil pesto
6 oz. creamy goat cheese
6 teaspoons balsamic reduction
1/2 lb. mesclun greens
2 oz. lemon herb dressing
Ingredients for Pate Brise
1 lb. unsalted cold butter (cut in small pieces)
1 1/2 lb. pastry flour
1 1/2 teaspoon salt
1 cup ice cold water
Preparation
Place your flour and butter in a 5-quart mixer. Mix with the paddle until mixture is mealy.
Combine the salt and water, then add the flour mixture until the dough starts to form.
Pour onto floured work station, and shape the dough into a round ball.
Place dough into a bowl covered with plastic and chill.
Basil Pesto Ingredients
1 bunch fresh basil picked
1/4 cup Grated Parmesan cheese
4 cloves garlic
1 tablespoon pine nuts
1/4 cup olive oil
Pesto Preparation
Place basil, garlic, and pine nuts in the food processor. Chop fine, then incorporate the cheese.
Slowly pour the olive oil until mixture is smooth.
Shape and bake the pie dough.
After resting the dough for a few minutes, sprinkle flour on top and around the dough, and with the help of a rolling pin, thin down the dough to a 1/2-inch thickness.
Cut the ring the size of your choice (6 inches would be recommended, take in consideration that the dough will shrink slightly during the cooking process).
Use a fork to puck holes covering the entire surface of the disk, and bake in the oven at 350 degree F for 15 minutes on a sheet of parchment paper. As soon as the disk is cooked (crisp to the touch, golden brown color), remove from the oven, let cool down, and save in an open air area (not refrigerated) until ready to use.
Assembly
Once the pie is baked, spread the basil pesto on the round pie. Add the caramelized onions, arrange the sliced tomato on top, and place the goat cheese on the center.
Bake at 350 degrees F until tomatoes start to slightly wrinkle.
Remove the pies from the oven and drizzle a reduction of balsamic vinegar on top.
Kalamata olives are a nice addition to the dish as are mesclun greens.
Serve the pie warm.
Serves 6-8.