Tortellini and Greens in a Rich Garlic Broth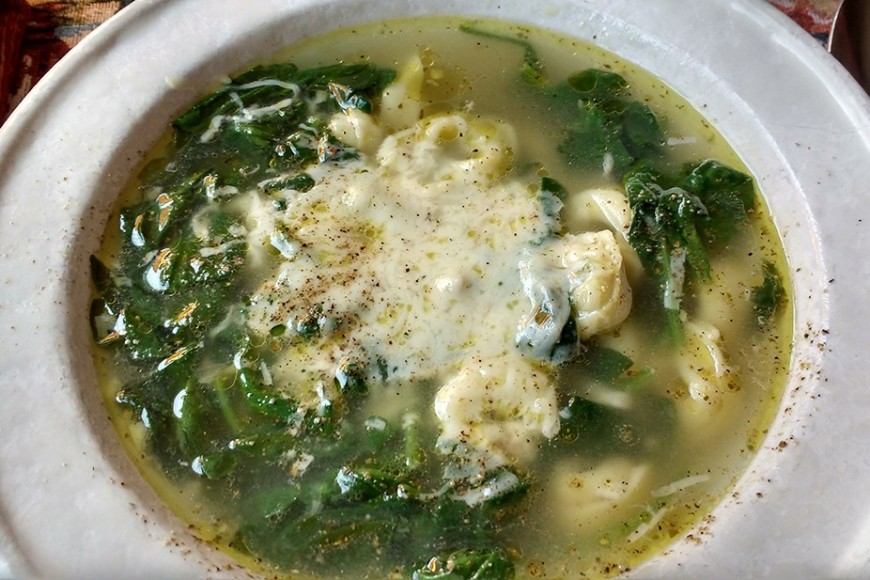 Print Friendly

Ingredients
2 tablespoons olive oil
8-to-10 cloves garlic, minced (more or less, to taste)
1 tablespoon anchovy paste (optional)
3 cups stock (chicken or vegetable)
3 cups water
1-to-2 teaspoons salt
1 pound tortellini (fresh, frozen, or dried)
1 pound greens (spinach, kale, escarole, collards, etc. or combination)
Freshly grated parmesan cheese
Freshly ground black pepper
Preparation
Heat olive oil in a large soup pot over medium heat. Add garlic, then anchovy paste (if using), and sauté, about 1 minute.
Slowly add the stock, water, and salt and bring to a boil. Reduce the heat to low, cover, and simmer for about 10 minutes.
While the broth is simmering, bring a large pot of salted water to a boil and cook the tortellini 1-to-2 minutes less than stated on the package directions, then drain.
Once the garlic broth is done simmering, add the greens and cook until just wilted, about 1-to-2 minutes for most greens.
Add in cooked tortellini and stir to combine all ingredients.
To serve, ladle into wide soup bowls and sprinkle with grated parmesan cheese and freshly ground black pepper.