Turkey Legs Osso Bucco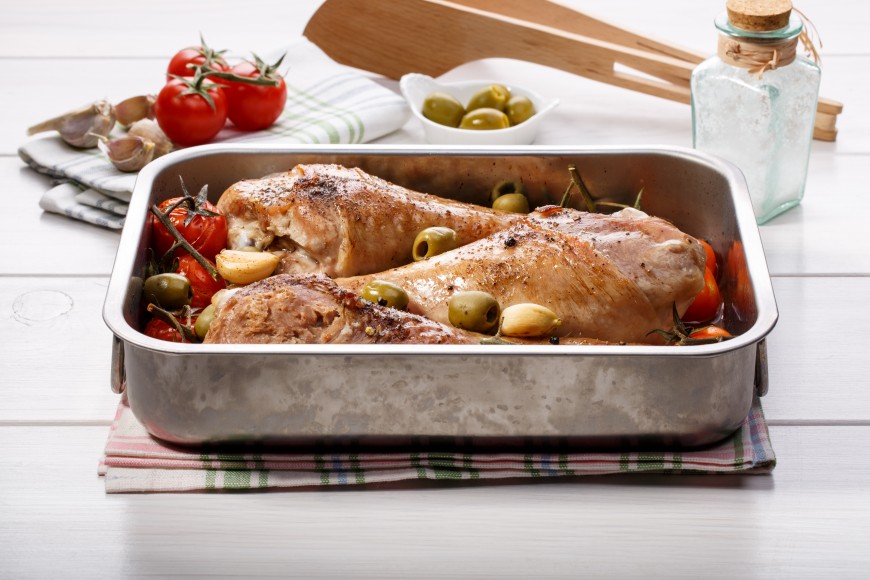 Print Friendly
Ingredients
2 turkey legs, skin on
1/4 cup all purpose flour
1/4 cup vegetable oil
2 cups white wine
2 red onions, large slices
2 celery stalks, large dice
4 carrots, large dice
8 oz. can chopped tomatoes
4 large tomatoes
4 cloves garlic, chopped
1 lemon, zested and juiced
1/2 bunch fresh parsley
3 cups rich chicken or beef stock
1 bay leaf
10 black peppercorns
Kosher salt and cracked black pepper, to taste
Preparation
Season turkey legs on both sides with kosher salt, fresh cracked black pepper, and flour.
In a hot pan with oil, sear turkey legs well on both sides.
Add onion, celery, and carrots and cook 5 minutes to establish color on the vegetables.
Deglaze pan with white wine and chicken stock.
Add can of chopped tomatoes and garlic (liquid should be only half covering the turkey legs). Bring to simmer.
Once simmering, add bay leaf and black peppercorns.
Cover and place in 325 degree F oven until turkey is nearly falling from the bone, about 2 hours.
Mince lemon zest, garlic, and parsley to make a gremolata. Sprinkle over top to garnish.
Add fresh chopped tomato as another garnish.
Note: Osso Bucco style refers to a traditional Italian dish made with veal shanks braised with white wine, stock, onions, tomatoes, garlic, carrots, and celery. The dish is finished with a lemon, parsley, and garlic gremolata. For this holiday variation, we used turkey legs.