Vermont Ale and Cheddar Soup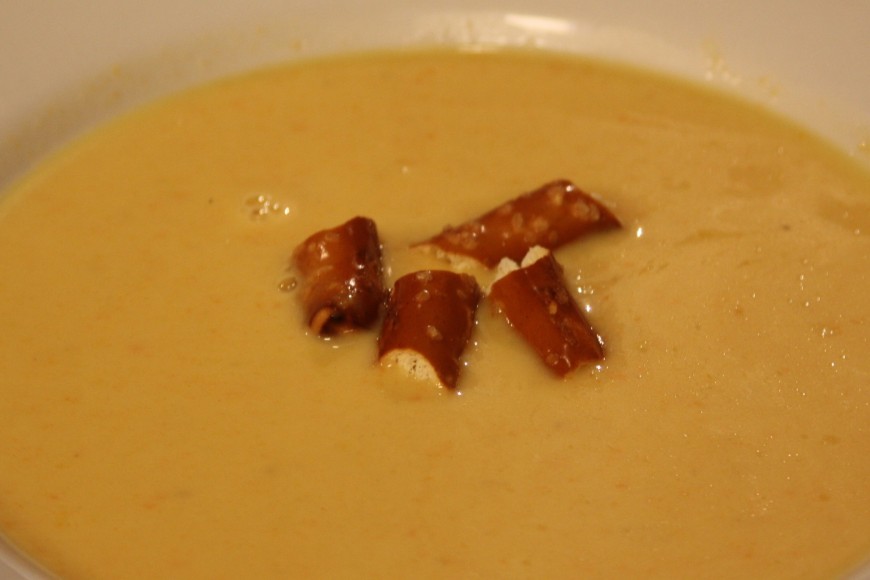 Print Friendly
Chef Paul Fucello – Cornerstone Pub & Kitchen
Ingredients
2 quarts chicken broth
1 1/2 lb. Cabot sharp cheddar, shredded
1/2 lb. butter
2 large white onions, chopped
3 celery stalks, chopped
2 carrots, chopped
3 bottles of good ale Note We are using Long Trail Brewing Company Ale
Roux, as needed (1/4 lb. butter, 1/4 lb. flour)
Salt and pepper, to taste
Pretzels of your choice for garnish
Preparation
In a large pot on a medium flame, melt butter.
Add chopped mirepoix (onion, celery, and carrot) and cook until translucent.
Add ale and chicken broth. Increase heat to medium high heat and bring to a boil for 5 minutes. Reduce heat to low.
Gradually whisk in cheese in increments until the soup is homogenous, and blend with an immersion blender or tabletop blender until smooth.
Add roux gradually until the desired consistency is reached.
Season with salt and pepper.
Garnish with pretzel nuggets or crushed pretzels.