Wild Mushroom Gnocchi with Chive Emulsion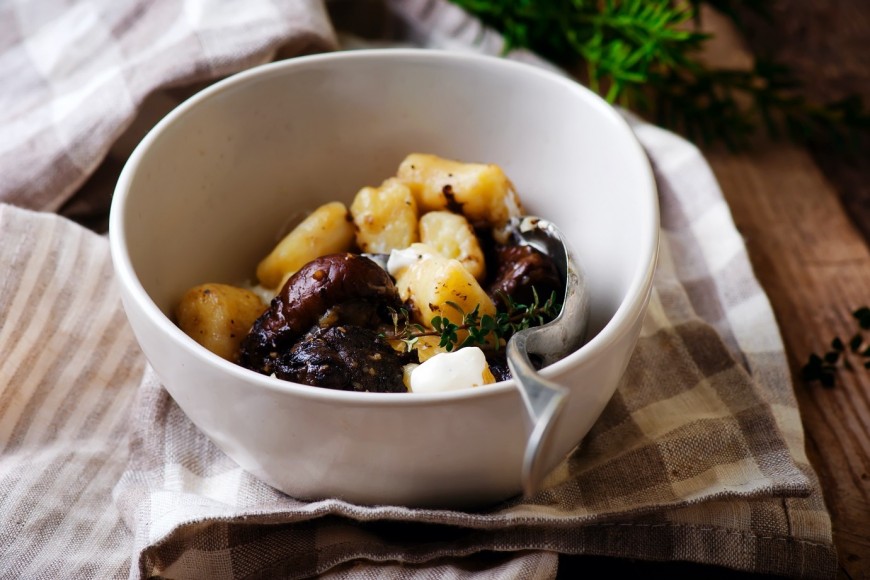 Print Friendly
Michael's on the Hill Restaurant, Waterbury, Vermont
Ingredients
3/4 cup all-purpose flour
1 large egg yolks
1 (10 oz.) Russet potato, peeled
2 tablespoons butter, unsalted
1 pinch salt, fresh ground black pepper, and fresh grated nutmeg
1 tablespoon vegetable oil
1 quart water, to boil potatoes
5 tablespoons salt, to add to the boiling water for the potatoes
3 quarts water, to cook the gnocchi
3 tablespoons salt, to add to the water to simmer the gnocchi
Preparation
In a large pot (1 1/2+ quarts), combine 1 quart of water and 1 tablespoon of salt for the potatoes. Add the whole, peeled potatoes to the water and bring to a boil, cooking until very tender.
In another large pot (4+ quarts), add 3 quarts of water and 3 tablespoons of salt, and bring to a boil.
Drain potatoes in a colander, and let it sit in the colander to dry for 10 minutes. Process through a food mill, or mash, getting the lumps out. Try to handle the potatoes as little as possible, and this will help the gnocchi to be light.
Fold in remaining ingredients making a smooth, dry dough.
Roll dough into a rope about 1/2-inch thick.
Cut rope into 1/2-inch pieces. Optional: With the back of a fork, gently roll over each piece to create indentation lines. It is attractive, and holds the sauce on the gnocchi better.
Drop in salted boiling water until the gnocchi rise to the top of the water, about 2 minutes. Simmer for 2 minutes more to make sure they are cooked.
Drop in cold water to stop the cooking process, then drain in a colander.
Toss with 1 tablespoon of vegetable oil.
Store in the refrigerator until ready to use.
To freeze, lay gnocchi flat, in 1 layer on a cookie sheet, and freeze. When frozen, portion gnocchi in freezer bags until ready to use. Defrost, and continue to follow recipe instructions.
Serves 6.