Wild Mushroom Gnocchi with Duck Leg Confit and Chive Emulsion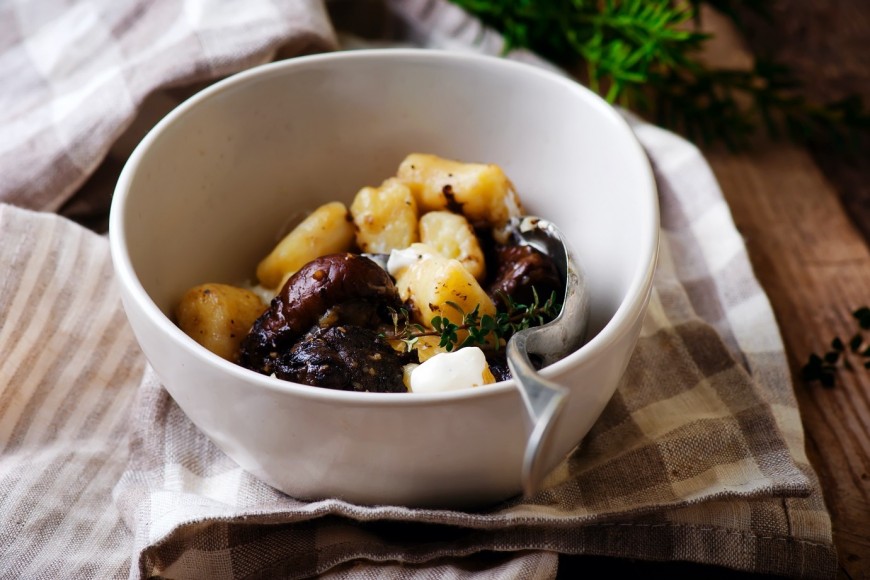 Print Friendly
Michael's on the Hill, Waterbury, Vermont
Gnocchi Ingredients
3/4 cup all-purpose flour
1 large egg yolk
1 medium Russet potato (about 10 oz.), peeled
2 tablespoons unsalted butter
1 pinch salt, fresh ground black pepper, fresh grated nutmeg
1 tablespoon vegetable oil
1 quart water, to boil potato
5 tablespoon salt, to add to the boiling water for the potatoes
3 quarts water, to cook the gnocchi
3 tablespoons salt, to add to the water to simmer the gnocchi
Gnocchi Preparation
In a large pot (1 1/2 + quarts), combine 1 quart of water and 1 tablespoon of salt. Add the whole, peeled potato to the water, and bring to a boil, cooking until very tender.
Drain potato in a colander, and let sit in the colander to dry for 10 minutes. Process through a food mill, or mash, getting the lumps out. Try to handle the potatoes as little as possible, and this will help the gnocchi to be light.
Fold in remaining ingredients making a smooth, dry dough.
Roll dough into a rope about 1/2 inch thick. Cut rope into 1/2 inch pieces. Optional: With the back of a fork, gently roll over each piece to create indentation lines. It is attractive, and holds the sauce on the gnocchi better.
In another large pot (4+ quarts), add 3 quarts of water and 3 tablespoons of salt, and bring to a boil. Drop in the gnocchi, and cook until they rise to the top of the water, about 2 minutes. Simmer for 2 minutes more to make sure they are cooked. Drop in cold water to stop the cooking process, then drain in a colander. Toss with 1 tablespoon of vegetable oil.
Store in the refrigerator until ready to use. To freeze, lay gnocchi flat, in 1 layer on a cookie sheet, and freeze. When frozen, portion gnocchi in freezer bags until ready to use.
Duck Leg Confit Ingredients
4 duck legs
2 cups duck fat
2 rosemary sprigs
4 thyme sprigs
3 bay leaves
6 cloves
20 black peppercorns
3 tablespoons kosher salt
8 garlic cloves, crushed
5 juniper berries, crushed
1 tablespoon green peppercorns, brined
Confit Preparation
Combine all ingredients together, except for the duck fat, and rub all over the duck legs. Allow to cure 24-to-48 hours.
Warm fat into a sauce pot. Drain any liquid from the curing mixture, and add the legs and spices to the warm fat. (Legs should be covered with the fat.) Bring to a simmer and continue simmering for 2+ hours, or until fork tender.
Remove legs and place into a bowl. Strain fat over legs and refrigerate until ready to use. At this point, remove the skin and bones, and pull the meat off into small pieces to add to the gnocchi.
Chive Emulsion Ingredients
1 teaspoon butter, unsalted
2 tablespoons shallots, chopped
1/4 pound chives, roughly chopped
1/4 cup white wine
1 cup heavy cream
Chive Emulsion Preparation
Sweat shallots in butter until translucent.
Add wine and reduce by half. Add cream and reduce by half. Add chives and salt and pepper.
Blend, strain, and adjust seasoning, if desired. Hold warm.
Ingredients to Finish the Gnocchi
4 duck legs, confit
1 tablespoon shallots, chopped
1/2 tablespoon garlic, chopped
1 pound oyster, portobello, and shitake mushroom mix
3 oz. chicken stock
3 tablespoons butter, unsalted
4 tablespoons black truffle butter
Salt and fresh ground black pepper, to taste
2 tablespoons chives, chopped
Finish Gnocchi
Sauté gnocchi in whole butter until browned.
Add mushrooms, pulled duck confit, garlic, and shallots, and sauté until just cooked through. Deglaze with chicken stock.
Mount with truffle butter until thickened. Adjust seasoning with salt and pepper.
Drizzle with chive sauce and garnish with chopped chives.