Yule Log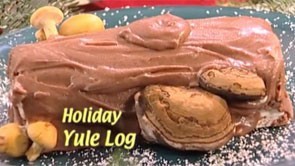 Print Friendly
Cake Ingredients
1 cup cake flour, sifted
1/4 cup cocoa powder
1 teaspoon baking powder
1/4 teaspoon salt
3 eggs
1 cup granulated sugar
1/3 cup water
1 teaspoon vanilla
Cake Preparation
Preheat oven to 375 degrees F.
Grease 15x10-inch jelly roll pan, line pan with waxed paper, and grease waxed paper.
Sift flour, cocoa, baking powder, and salt together. Set aside.
Beat eggs at high speed until thick and light yellow in color.
Beat in granulated sugar, a tablespoon at a time, beating constantly, until mixture is very thick.
Beat in water and vanilla, and fold in sifted dry ingredients until blended.
Spread and batter evenly in prepared pan.
Bake for 10 minutes or until center springs back when touched lightly with finger (it's important not to overcook). Let cool for 10 minutes.
Loosen cake around the pan edges using a sharp knife, invert pan onto waxed paper dusted with confectioner's sugar, and remove pan and waxed paper.
Make sure cake is just barely warm, then spread with cream filling (recipe follows).
Roll jelly-roll fashion into a log, and place on serving plate.
Frost entire log with chocolate butter frosting (recipe follows).
Cream Filling Ingredients
1 cup heavy cream
1/2 cup sugar
Cream Filling Preparation
Combine cream with sugar and beat at medium speed until peaks form. Gradually beat in vanilla.
Chocolate Butter Frosting Ingredients
1/2 cup butter
2 squares unsweetened chocolate
2 cups confectioner's sugar
1/4 cup milk
1 teaspoon vanilla
Chocolate Butter Frosting Preparation
Add water to bottom of double boiler and bring to easy boil. Break chocolate squares up into small pieces, and melt in top of double boiler.
In a medium-size mixing bowl, add soft butter, confectioner's sugar, milk, and vanilla. Pour in melted chocolate and mix on medium-high speed until light and fluffy.