Chateaubriand Au Poivre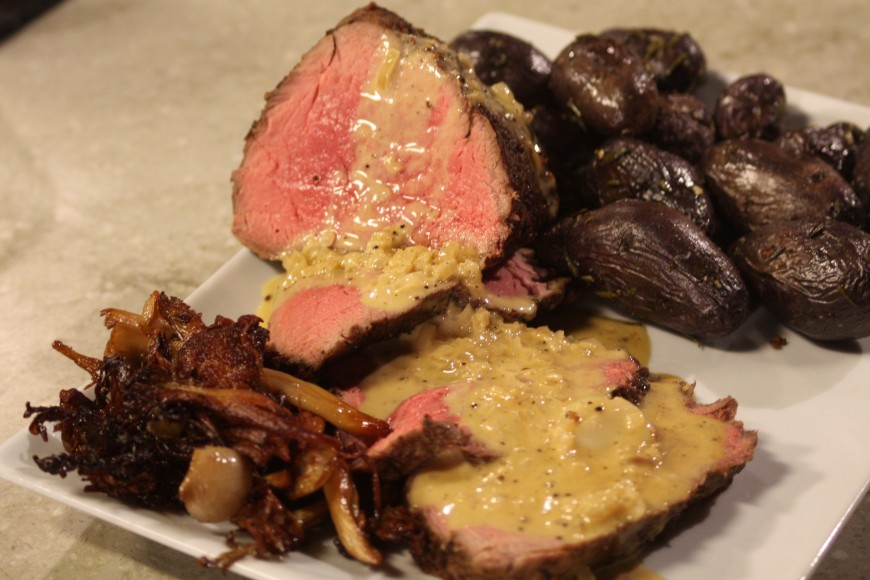 Print Friendly
Anthony Ploof – Chef de Cuisine at The Essex
Ingredients
1 16 oz. filet mignon, chateaubriand cut
2 tablespoons kosher salt
4 tablespoons red, white, and green peppercorn blend
Canola oil, to coat pan
1 tablespoon butter
1 shallot, minced
4 cloves garlic, crushed
3 oz. cognac
1/2 cup veal or beef stock
1 tablespoon Dijon mustard
1/2 cup heavy cream
Salt and pepper, to taste
Preparation
Preheat oven to 325 degrees F.
Heavily season filet with kosher salt and peppercorn blend.
Heat oil in heavy bottom stainless steel skillet or cast iron pan over medium-high heat (avoid non-stick pans).
Place filet in pan and sear until a dark brown crust is achieved on all sides.
Remove filet and place on a roasting rack and into the oven to finish cooking until it reaches between rare and medium-rare (115-120 degrees F), this will take approximately 10-15 minutes, depending on thickness of the cut of meat. Meanwhile, pour any excess oil out of skillet and place back on low heat.
Add butter, shallots, and garlic and continue to sweat until translucent (about 3-4 minutes).
Turn heat back up to medium-high and very carefully bring pan away from heat, add cognac, and slowly return to heat.
If you are using an electric or induction stove-top simply simmer for 30 seconds until alcohol has burned off, if you are using a gas stovetop you may choose to flambé in order to remove the alcohol and add a light smoke flavor. Caution: Do not flambé unless you are familiar with the process and have proper fire safety equipment at hand and in a well-ventilated kitchen.
Once alcohol has burned off, add stock, mustard, and cream. Bring to a boil and simmer until thickened.
Adjust seasoning to taste with salt and pepper.