Copper Ale Braised Short Ribs with Chanterelle Mushroom Barley Ragout and Gremolata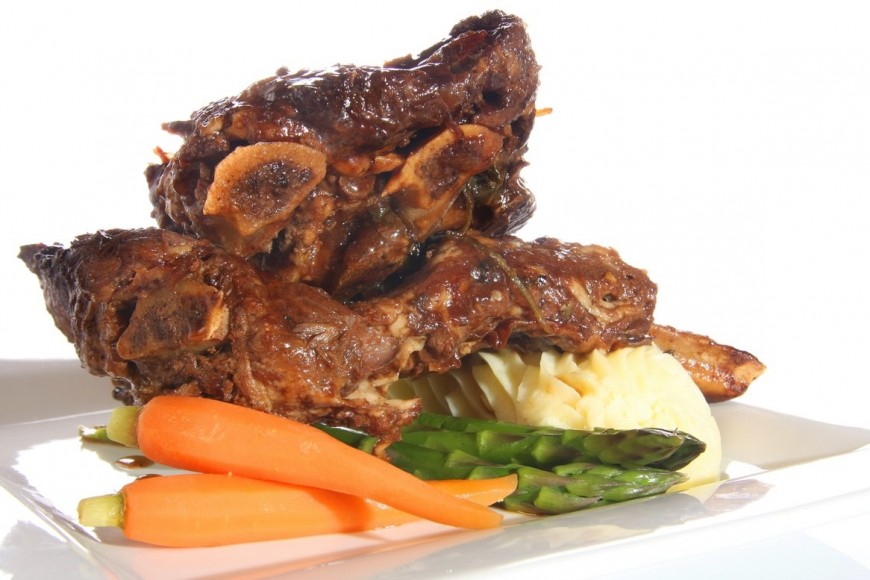 Print Friendly
Stowe Mountain Resort
Braised Short Ribs Ingredients
6 pieces large beef short ribs
1 large white onion
2 stalks celery
2 large carrots
4 oz. tomato paste
24 oz. Copper Ale
32 oz. brown chicken stock
2 bay leaves
6 fresh thyme sprigs
Braised Short Ribs Preparation
Season ribs with salt and pepper, and sear in mild olive oil.
Rough chop carrot, onion, and celery. Sweat vegetables in rondeau and add seared meat and all other ingredients.
Bring to a simmer on stove top, cover with foil, and place in 300 degrees F oven for 3 1/2 hours.
Remove ribs, reduce braising liquid, remove bay leaves, puree, and season.
Chanterelle Barley Ragout Ingredients
3 cups pearl barley
7 1/2 cups chicken stock
4 oz. fresh chanterelle mushrooms
3 whole shallots, chopped
4 cloves garlic, chopped
4 oz. brandy
3 tablespoons fresh thyme, chopped
4 oz. heavy cream
1 oz. parmesan cheese
2 tablespoons truffle oil
3 oz. butter
Salt, to taste
Pepper, to taste
Lemon juice, to taste
2 cups braising liquid
Chanterelle Barley Ragout Preparation
Cook barley in simmering chicken stock for 35 minutes, or until liquid is completely absorbed. Spread on sheet pan and cool.
Sauté mushrooms in butter, and add garlic and shallot.
Deglaze with brandy, add thyme, barley, and braising liquid, and simmer 5 minutes. Add parmesan and cream, and finish with truffle oil.
Season with salt, pepper, and lemon juice. Adjust consistency with braising liquid, as needed.
Gremolata Ingredients
2 lemons, zested
1 bunch parsley
4 cloves fresh garlic
Black pepper, to taste
Gremolata Preparation
Chop and mix all together.