Grafton Sharp Cheddar Fondue with Woodchuck Cider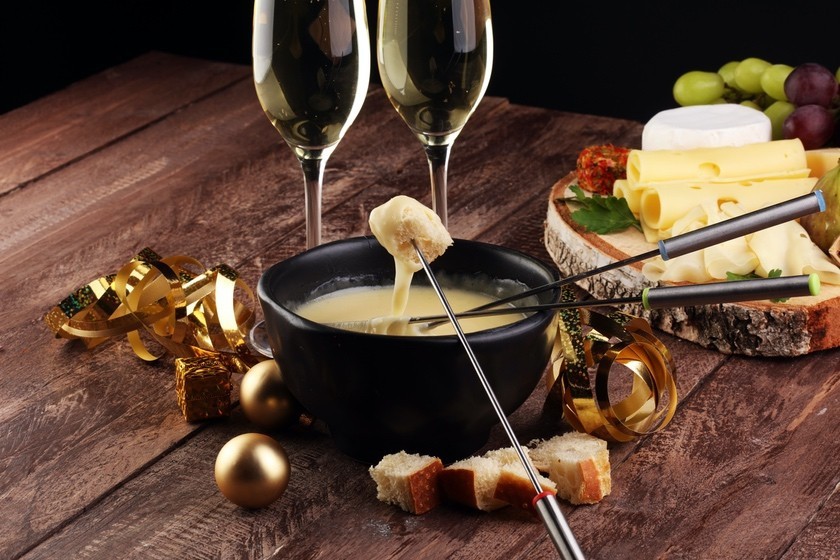 Print Friendly
Stowe Mountain Resort
Ingredients
12 oz. Grafton Sharp cheddar cheese, grated
1 bottle Woodchuck Cider (355 ml)
Fresh thyme
Black peppercorns
Bay leaves
1 clove garlic
1/2 shallot diced
2-3 tablespoons corn starch
2-3 oz. Flag Hill Farms Vermont Apple Brandy
Salt and pepper, to taste
Preparation
First make a reduction of the Woodchuck cider by combining the cider with thyme, peppercorns, bay leaves, garlic, and shallots. Reduce in volume by about one third.
Add the corn starch to the reduction and cook until slightly thickened. Remove from heat and reserve. This can be done well in advance.
When you are ready to make the fondue, heat the reduction up until it starts to boil and then, using the spatula or spoon, mix in the cheese in 3-to-4 stages. Continue stirring until you attain an almost gooey stringy texture. Then season with salt and pepper, to taste, and finish by adding 2-3 oz. of Flag Hill Farms Vermont Apple Brandy.
Garnish for Fondue
Elmore Mountain Maple Raisin bread
Vermont Smoke and Cure Pepperoni
Vermont-grown apples
Pete's Greens baby potatoes
Equipment
Heat resistant rubber spatula or wooden spoon
Heavy bottomed pot or sauté pan
Fondue pot
Grater for cheese