Medallion of Pork with Lentils Ragout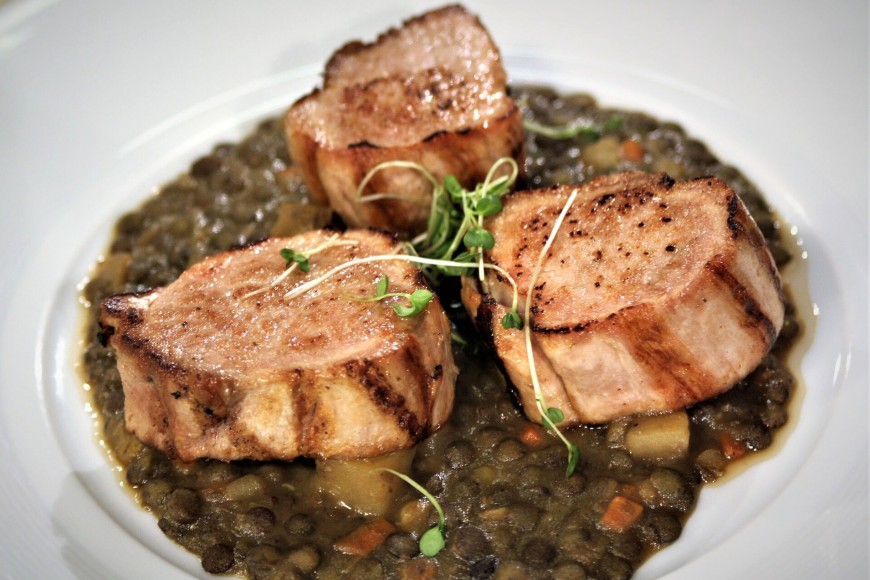 Print Friendly

Chef Jean-Louis Guerin, New England Culinary Institute
Ingredients
1 1/2 cups "lentilles du puy" (French green lentils)
Salt
1/2 cup onion, peeled and cut julienne style
1/2 cup carrot, peeled and cut brunoise style
1 cup potato, cut mirepoix style and not washed
1/2 bay leaf
Leaves from 4-5 sprigs fresh thyme
5 cups chicken broth
Freshly ground black pepper
2 tablespoons butter
1 tablespoon garlic puree (cooked in milk until soft, then processed)
1 teaspoon raw butter
1 tenderloin of pork, trimmed
Preparation
For the ragout
In a large stock pot, cover lentils with a few inches of heavily salted cold water. Bring to a boil over high heat. Boil one minute, and then drain lentils.
In the same pot, caramelize the onion. Then add carrot, raw potato, garlic, bay leaf, thyme leaves, lentils, and chicken broth, in that order. Bring to a boil, then reduce heat to low, cover, and simmer until lentils are cooked through but retain their integrity, 20-25 minutes. Remove from heat and let rest, covered, 5-10 minutes.
In a blender, puree some of the lentils, potato, garlic, carrot, and onion, until smooth. Return puree to soup pot with remaining lentils and broth, stir well to blend, and season to taste with salt and pepper.
Whisk in a few dollops of fresh butter before serving.
For the pork medallion
Trim the tenderloin of pork.
Sear, grill, or sauté on all sides, then season with black pepper and sea salt.
Cut the tenderloin into medallions, and reserve.
Before serving, sauté medallions in hot pan with oil and butter. For best results, turn the medallion after 1 minute. Repeat twice or more, as necessary.
Place the lentils first in a soup plate, then garnish with the pork medallions. Sprinkle with fresh herbs, toasted nuts, or chopped lettuce. Do not mix the two elements.