Red Wine Braised Pear (with salad variation)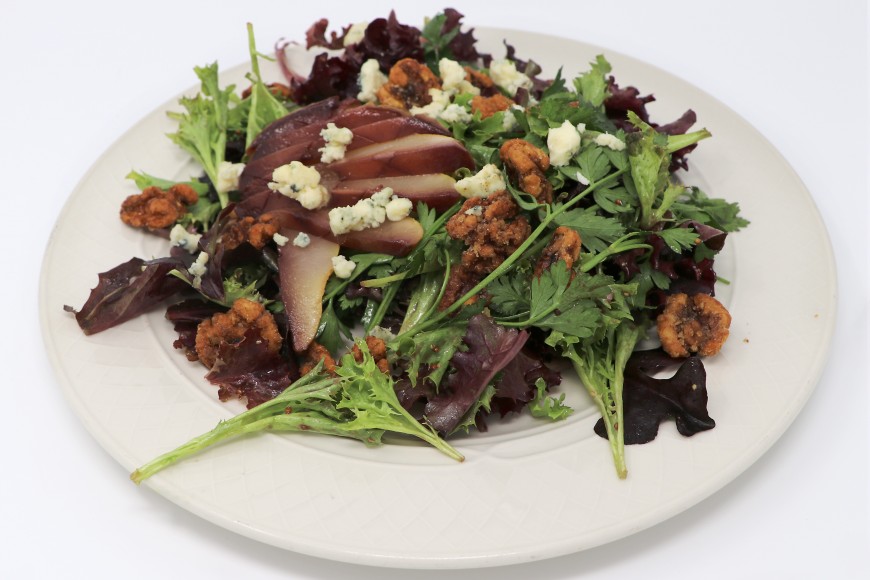 Print Friendly
Chef Aaron Martin from PLATE Stowe, Vermont
Ingredients

For the pear:
2 Bosch Pears
1/2 Bottle Red Wine
1 Cup Local Honey
1-pint Vegetable Stock (make ahead) / feel free to use chicken stock Whole cloves just a pinch
Whole Peppercorns
A few sprigs of Fresh Thyme
Procedure
Pre heat the oven to 350.
Cut pears in half and remove seeds with a melon baller or tomato shark then score gently with a paring knife.
Get a heavy bottomed sauce pan hot and add (bacon fat or oil if you desire a vegetarian version)
Add the pears scored side down and sear hard until color starts around the edges.
Add red wine and stock until pears are submerged. Add honey, cloves, peppercorns and Thyme.
Bring to a simmer and place coved saucepan into the oven.
Set timer for 20 minutes.
Remove pan from oven and cool in liquid.
For the salad:
One bunch flat leaf Parsley
10 ounces Local salad greens
VT blue cheese crumbled
Toasted or candied walnuts
One shallot
1 teaspoon whole grain mustard
1 cup olive oil
Salt and whole peppercorns
1/2 cup cooled red wine braising liquid
Procedure
Combine diced shallot, whole grain mustard and chilled braising liquid in container. Add salt and fresh cracked pepper to taste.
While stirring mixture gently add olive oil.
Dress parsley leaves and salad greens in dressing. Plate and garnish with blue cheese, walnuts and sliced braised pear.