Hearty Tuscan Soup with Parmesan Croutons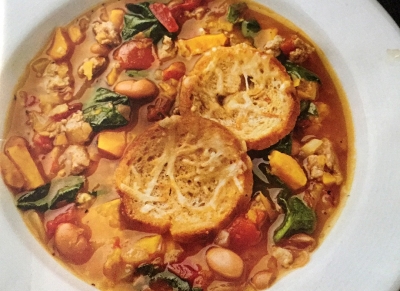 Sandy Zielinski, New England Cooks Co-Host.
As storm Grayson, or storm Brody if you live in Connecticut, bears down on the Eastern Seaboard, it seems like a good time to have a pot of hearty soup on hand. This soup has a new twist that I never tried before, and I think that is what puts hearty in the title.
The production crew at New England Cooks will also recognize this recipe as I made it for our October show using Vermont Salumi sausage, which was delicious. Our pre-production meetings are now a blend of planning, good food, and laughter as we prepare for each show.
Ingredients
2 cans (15 oz.) reduced-sodium pinto beans
8 oz. good-quality sausage
1 large onion
I medium sweet potato, peeled
4 garlic cloves
4 cups chicken broth
1 can diced tomatoes, undrained
1 tablespoon Italian seasoning (or experiment with your favorite spice)
1 5-oz. package of baby spinach leaves
16 melba toast rounds
3 tablespoons shredded Italian cheese blend
Preparation
Drain and rinse the beans. Transfer half of the beans to a food processor and process until almost smooth. Set aside both whole and mashed beans.
In a Dutch oven, heat oil over medium heat for about 3 minutes and cook sausage for 4-to-6 minutes or until no longer pink, breaking into crumbles as you cook it.
Cut sweet potato into small chunks, dice onion, and finely chop the garlic. Add onion, sweet potato, and garlic to the sausage and cook and stir for 3-to-5 minutes, or until onion is softened.
Stir in all beans, chicken stock, tomatoes, spices, and pepper. Cover, and bring to a boil. Reduce heat to medium and simmer, covered, for 10 minutes.
Preheat broiler and remove Dutch over from heat. Add spinach and let stand 2-to-3 minutes until spinach is wilted.
Top with melba toast rounds, sprinkle with cheese, and place Dutch oven 2-to-4 inches from heating element. Broil 2-to-4 minutes, or until croutons and cheese are lightly browned.
Cook's Tip: The mashed beans help thicken the soup and make it creamy. Enjoy!