Mini Cheese Grits Casseroles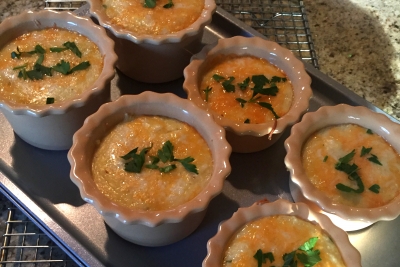 Sandy Zielinski, New England Cooks Co-Host.
My recent trip to Charleston, South Carolina has given me a whole new appreciation for grits. The fact that these can be made a day ahead of time and are often a new addition to your menu, makes this a winning recipe.
Ingredients
4 1/2 cups water
1 1/2 cups uncooked quick-cooking grits
2 teaspoons salt, divided
1 cup half-and-half
1 teaspoon dry mustard
1/4 teaspoon pepper
2 large eggs
1 large egg yolk
12 oz. sharp Cheddar cheese
2 tablespoons chopped fresh chives or parsley
Preparation
Bring water to a boil in medium saucepan over high heat.
Add grits and 1 teaspoon of salt. Turn heat to medium-low and cook, stirring occasionally, until grits are thickened and tender, about 5 minutes. Let the grits stand for 5 minutes.
Meanwhile, whisk together half-and-half, mustard, pepper, eggs, egg yolk, and the remaining 1 teaspoon salt. Stir in grits and cheese until cheese is melted.
Divide mixture evenly among 6 (8 oz.) lightly greased ramekins. Cover and chill 8 hours or overnight. (You can also use a 2-quart baking dish and increase baking time to 55 minutes.)
Preheat oven to 350 degrees F. Uncover ramekins and place on a baking sheet. Let stand at room temperature while oven preheats. Bake until puffed and edges are set, about 40 minutes.
Sprinkle with chives or parsley, and serve.
Serves 6.
Enjoy ya'll.