Humming Bird Cake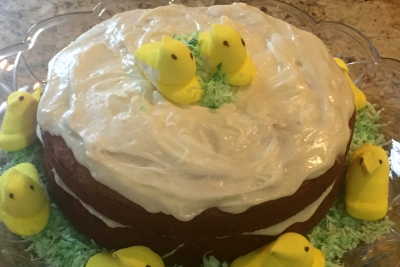 Sandy Zielinski, New England Cooks Co-Host.
Just back from South Carolina and tasted this wonderful cake at Kaminsky's Dessert Cafe in downtown Charleston. While I added some "peeps" and coconut for Easter, it is a cake for all seasons!
If you are ever visiting Charleston, be sure to stop at Kaminsky's, located at 78 North Market Street in Charleston, South Carolina.
Ingredients
3 cups flour
1 cup oil
2 cups sugar
2 cups chopped nuts
3 eggs
1 teaspoon salt
1 1/2 teaspoon vanilla
1 teaspoon cinnamon
1 8-oz. can crushed pineapple, with juice
2 cups chopped, not mashed, bananas
Icing Ingredients
1 8-oz package cream cheese
1 stick butter
1 teaspoon vanilla
1 box powdered sugar
1 cup chopped nuts
Preparation
Preheat oven to 350 degrees F.
Grease and flour a Bundt pan or 2 9-inch round pans.
Mix dry ingredients together.
Beat eggs with oil and sugar, then add the pineapple.
Fold in dry ingredients and banana chunks.
Bake for 1 hour 10 minutes in Bundt pan or 28 minutes in 9-inch round pans.
Cool in pan and remove.