Keith's Mock Chicken Salad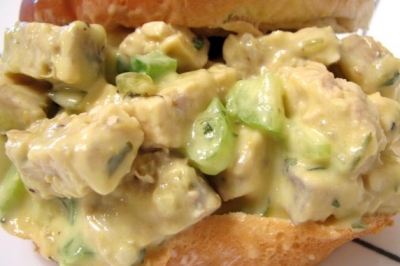 Keith Swann, Director, New England Cooks Live Demonstration Shows.
It has been more than two decades since I changed my diet to one that is mostly plant-based. While it was easier to break the meat habit than I thought it would be, there are still some dishes that I've not quite been able to let go of and thus have made numerous attempts to recreate using only vegetarian ingredients. One of these dishes is a childhood favorite that I ate frequently well into adulthood — chicken salad.
For several years, I tried combining different ingredients to get the taste and texture of a non-meat chicken salad just right, but with only modest success. Recently, however, I hit on a mixture that has come pretty close to the real thing (from this vegetarian's point of view, that is). While it's not meant to fool meat eaters, it is a tasty and gratifying alternative for those who have chosen not to eat meat as well as those wanting to reduce their meat intake without losing the essential goodness of a favorite dish.
My version includes mayonnaise, which, of course, contains eggs. For a vegan version, try an eggless substitute, such as Veganaise® or Nayonaise®, in place of the mayo. You can also experiment with different crunchy salad vegetables for a variety of colors and flavors and/or add in some sweet notes using dried currants, raisins, or chopped apple. The possibilities are virtually endless depending upon how adventurous you want to get with this satisfying staple that is perfect for lunch or a light supper. Enjoy!
Ingredients
14 oz. firm or extra-firm tofu, cut into small cubes and patted dry
2 tablespoons peanut oil
1/2 cup mayonnaise
1/2 cup celery, small dice
1/2 cup red onion, small dice
1 teaspoon ground cumin
1 teaspoon dried basil
Handful of fresh parsley, stems removed, rough chop
Salt and pepper, to taste
Preparation
Heat peanut oil in a large frying pan to medium high.
Add cubed tofu and allow to brown on all sides. Set aside to cool.
In a large bowl, mix cooled tofu cubes, mayo, celery, red onion, cumin, and basil. Once combined, mix in parsley. Season with salt and pepper to taste.
Refrigerate for at least an hour (preferably longer) to meld flavors.
To plate, serve on a bed of lettuce or as a sandwich filling between two slices of fresh bread.