Lentil Soup with Beef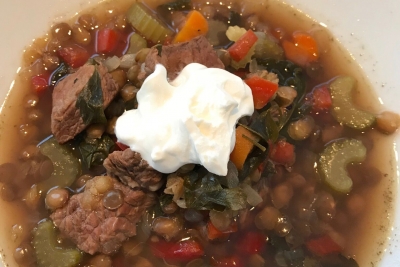 Tony Campos, New England Cooks Co-Host.
Okay, they say winter is almost over, but after receiving two feet of snow last Wednesday, it doesn't feel like winter is almost over.
Try this comfort food tonight with corn bread and red wine.
Ingredients
1 pound boneless beef sirloin steak
4 cups reduced-sodium beef broth
1 cup lentils, rinsed and drained
1 cup water
3/4 cup red sweet pepper, coarsely chopped
1/2 cup onion, chopped
1/2 cup carrot, sliced
1/2 cup celery, sliced
2 cloves garlic, minced
1 teaspoon ground cumin
1/4 teaspoon cayenne pepper
1/3 cup snipped fresh parsley
Dollop of sour cream (optional)
Preparation
Trim fat from meat and cut into 3/4-inch pieces.
For a richer soup, cook beef in a nonstick skillet over medium-high heat until browned or lightly browned, otherwise, use uncooked meat.
Place in a 3 1/2-or-4-quart slow cooker.
Stir in broth, lentils, water, sweet pepper, onion, carrot, celery, garlic, cumin, and cayenne.
Cover and cook on HIGH for 3 1/2-to-4 hours, or on LOW for 7-to-8 hours.
Stir in parsley.
Ladle soup into bowls topped with an optional dollop of sour cream.
Prep time: 25 minutes. Cook time between 3 1/2-to-8 hours, depending upon which cooking temperature is selected.