Ribollita Soup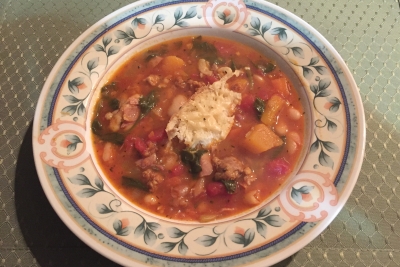 Sandy Zelinski, New England Cooks Co-Host.
Greetings!
Well, based on the Groundhog, and the weather, it looks like we will be having six more weeks of winter, which calls for more soup recipes.
Prior to the taping of each New England Cooks episode, we have a pre-production meeting where we review the components of our upcoming show and feed our crew. For our last show, I made Ribollita soup. This recipe came to me via my cousin Jean Alberghini during a Christmas family lunch, and it was delicious. I know the production crew agreed.
The recipe, which serves six, is easy to prepare, with a prep time of 15 minutes and a cook time of 40 minutes.
Ingredients
1/4 cup extra-virgin olive oil
1 onion, chopped
1 carrot, chopped
4 oz. pancetta, chopped
2 cloves garlic, 1 minced and 1 whole
1 teaspoon salt
1 teaspoon freshly ground black pepper
1 tablespoon tomato paste
1 15-oz. can diced tomatoes
1 package baby spinach
1 15-oz. can cannelloni beans, drained
1 tablespoon herbs de Provence
3 cups chicken stock
1 bay leaf
1 3-inch piece Parmesan rind
4-to-6 ciabatta rolls, halved lengthwise
Grated Parmesan, for serving
Preparation
Heat the oil in a heavy, large pot over medium heat.
Add the onion, carrot, pancetta, minced garlic, salt, and pepper. Cook until the onion is golden brown and the pancetta is crisp, about 7 minutes.
Add tomato paste and cook until dissolved.
Add tomatoes and stir, scraping the bottom of the pan with a wooden spoon to release all brown bits.
Add the spinach, beans, herbs, stock, bay leaf, and Parmesan rind. Bring the soup to a boil, reduce heat, and simmer for 30 minutes.
Meanwhile, preheat oven to 350 degrees F.
Drizzle the ciabatta halves with olive oil. Toast until golden brown, about 5 minutes.
Remove from the oven and rub the top of the toasts with the whole garlic clove.
Place the toasts in the serving bowls and ladle the soup over the toasts.
Sprinkle with Parmesan and serve immediately.
Enjoy!